This year, we conducted a sleep experiment called the Sleep Better Study, designed to spot where employees are going wrong when it comes to their sleep. This research, conducted with Loughborough University, used a variety of measures to track the sleep patterns of Dreams' employees. The findings revealed there's still a lot to be done to help the nation achieve a good night's rest on a regular basis. It also shows that there's plenty employers can do to provide a helping hand.
Related: The 2016 UK Sleep Survey Results
The sleep experiment
To find the links between night-time sleep and waking life, we used sleep tracking technology and online assessments hosted by the Clinical Sleep Research Unit at Loughborough University.  This experiment was conducted on a sample of 2,002 Dreams' employees. We tracked the equivalent of 1,400 nights of sleep through 3 separate activities. These included:
An online questionnaire assessing the quality and quantity of their sleep, their health, their overall wellbeing, and their performance at work.
30 daily online diaries recording their day-to-day experience of sleep, information from the Dreams sleep tracking technology, and their experience of work.
A 'wrap-up' questionnaire which re-assessed sleep quality and invited comment on both the study itself and the sleep technology used.
The sleep study results
The results from our sleep experiment revealed two surprising findings, mainly to do with gender and the correlation between sleep and work:
Women suffer from worse sleep than men
According to the results, a quarter of the women surveyed sleep very poorly, compared to just 18% of men. This can be linked to stress levels, as 54% of women find it takes longer to fall asleep after a day of stress, compared to 45% of men.
This lack of sleep for women can lead to anxiety and a lack of productivity the following day. According to the results, 24% of these women struggle to complete projects after a poor night's sleep. This also leads to 23% of women experiencing low self-esteem and 27% experiencing anxious thoughts as a result of poor sleep.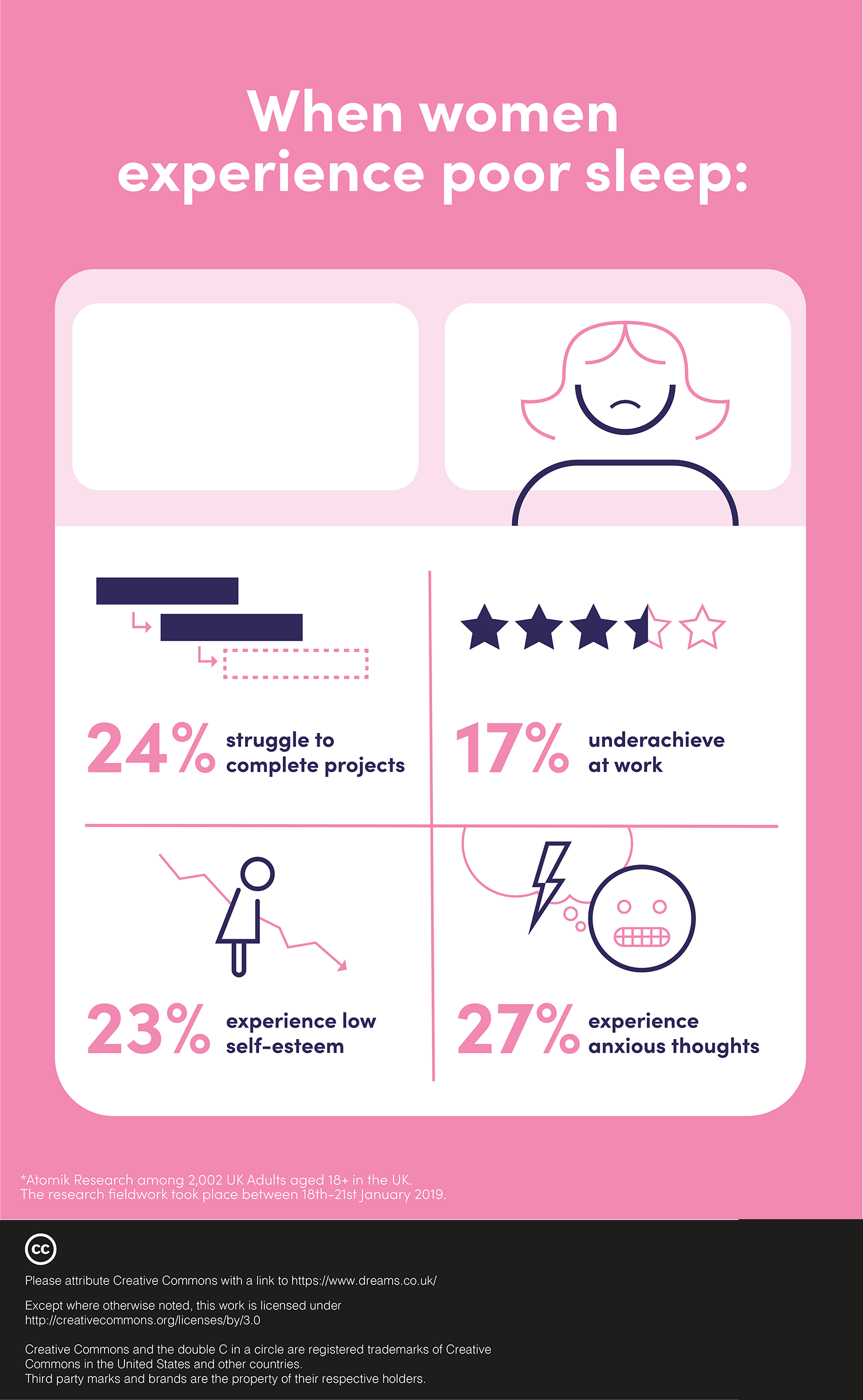 There is a sleep stigma in the workplace
The results also found that a shocking 78% of workers have experienced consistent periods of poor sleep. Yet despite this, 69% of employees have never spoken about feeling tired with their employer.
As well as three quarters of the population suffering from poor sleep, 54% even reported being unable to stay awake the following day. This lack of sleep leads to weaker employee performance and employees taking sick days more often; an average of 2 sick days a year are required to catch up on sleep.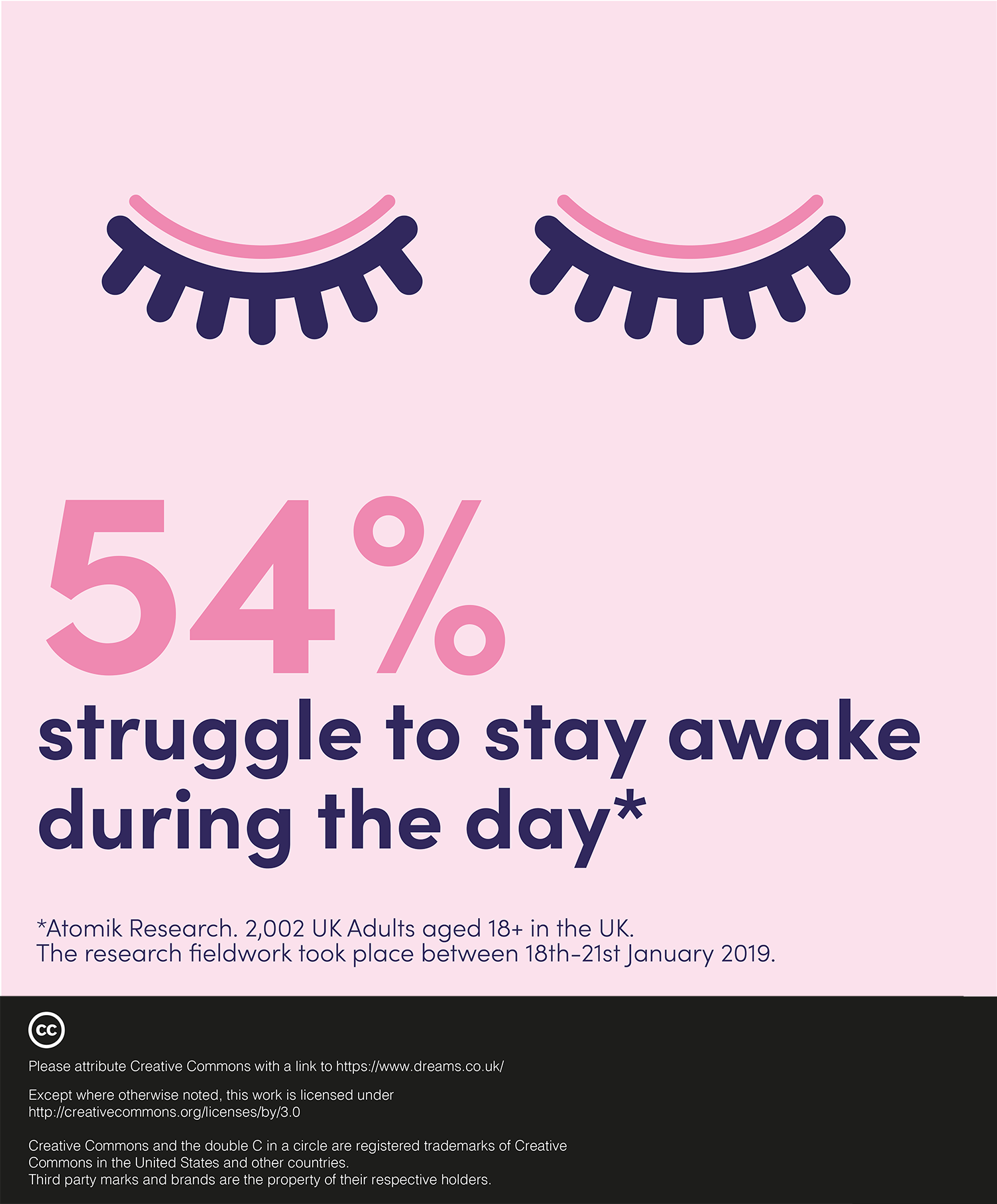 However, despite the nation's lack of sleep, employers don't seem to prioritise initiatives in order to help their staff and only 3% of businesses have sleep policies in place. This is because well over half (63%) of business leaders feel it's the individual's responsibility, not the company's, to manage their quality of sleep. However, 29% of employees would welcome a sleep initiative in their workplace and it would even make 33% of employees less likely to look for a job elsewhere.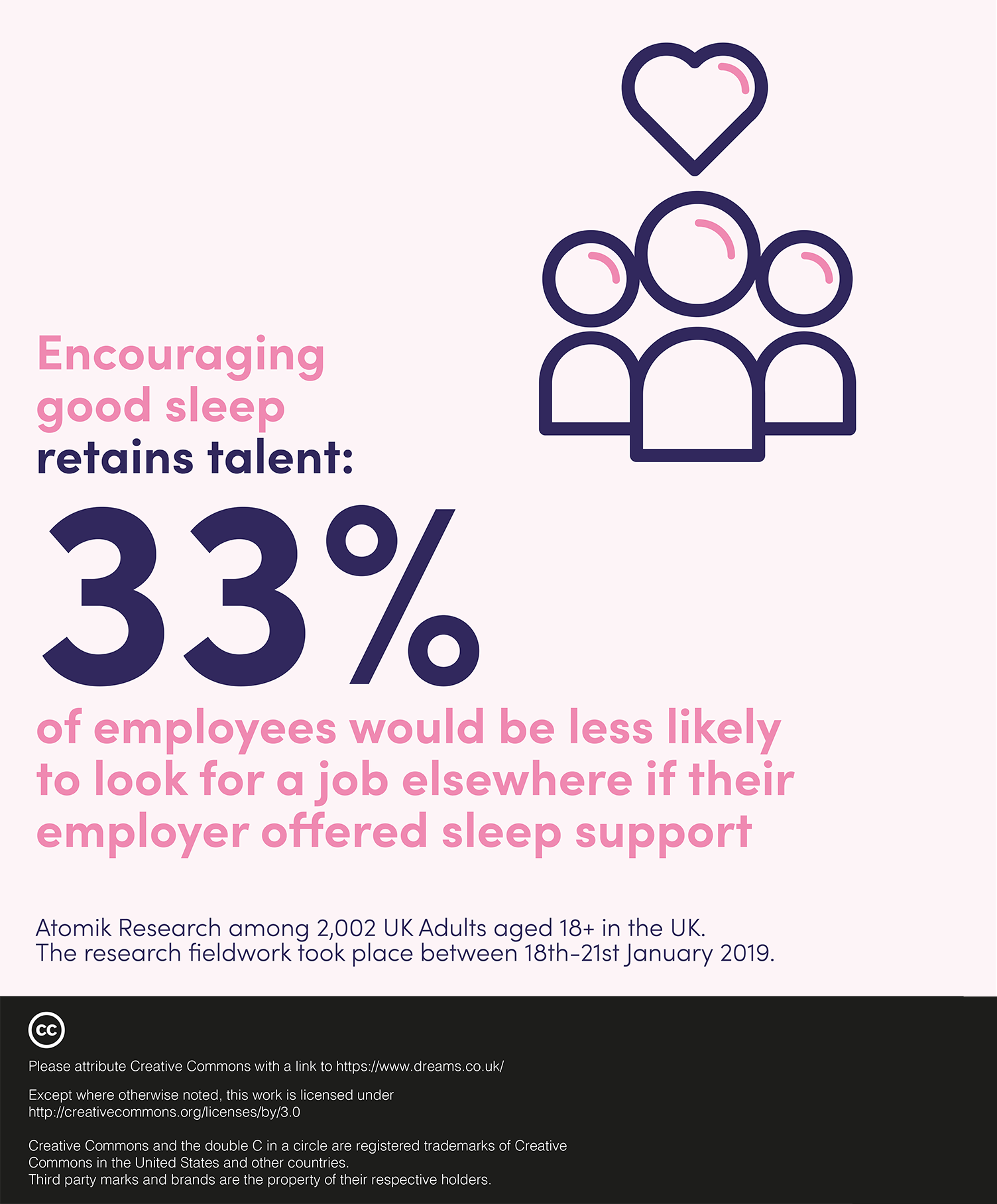 Dreams' sleep action plan
 Chief Executive Officer Mike Logue, states that:
"Britain has a chronic sleep deficit and it is exacerbating our productivity crisis. Sleep is an opportunity to improve employee wellbeing and boost business, yet it is not being taken seriously. We need to put an end to workplace sleep stigma so more people and businesses can thrive."
These findings lead to us implementing the Sleep Better Programme, targeted at helping our UK based employees. This programme includes:
Access to a 24-hour helpline
Bespoke sleep guidance from sleep expert Dr Pixie Mckenna
A sleep tracker to monitor sleep patterns
Sleep health training for managers
As well as the above, employers should consider creating a healthier atmosphere regarding sleep. This could include discouraging out-of-hours working and ensuring sleep health education for those who manage teams.
Have you noticed a sleep stigma in your workplace? Let us know in the comments!