The storage beds buying guide
Last updated: October 2023
What's the best storage bed for you?
As there are several different types of storage beds, we think it's worth taking the time to browse through what's available and discover what style is best suited to your needs. Your choice will depend on how much space you've got to work with, how many belongings you wish to store away, and your budget and interior style. The storage bed you select should live up to all your expectations. Which storage bed is the best for you will also depend on the room you're looking for, these beds are suitable for any room from master bedrooms to multi-purpose rooms. Below are the types of bed frame with storage you can find with us, and a little bit about them:
Types of storage available in beds
There's a huge variety of different storage methods available to maximise space in your bedroom. From storage beds fitted with hidden compartments to manage clutter, to lift-up ottoman compartments and pull-out drawers, and even kids' beds offering storage, we've got great storage ideas for every bedroom.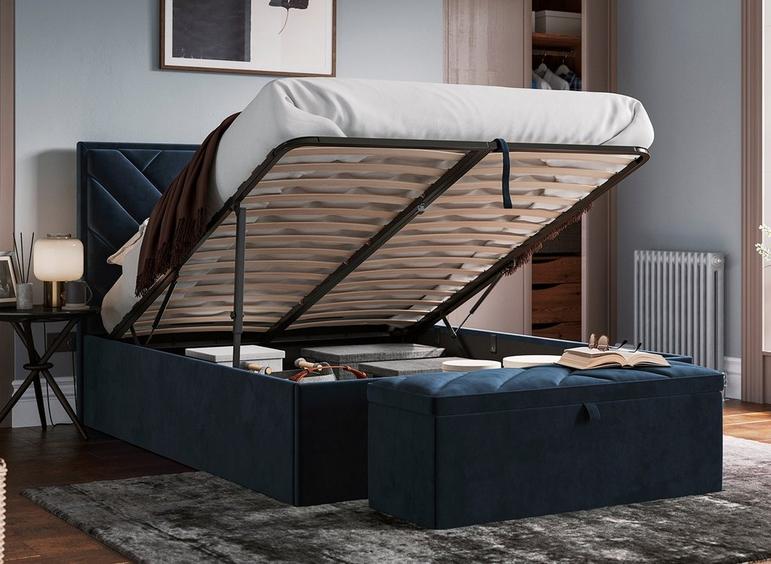 Ottoman
Ottoman divan beds are a great storage solution if you're tight on space. An ottoman bed lifts up from either the bottom or side of the base, giving you the space beneath your mattress to use as storage.
At a glance, the pros of ottoman storage include the amount of storage space, as you have the whole under-bed area, which makes ottomans great for storing larger items. The mechanism also makes lifting the mattress and platform easy. On the other hand, these beds are not ideal if you want to access the storage every day.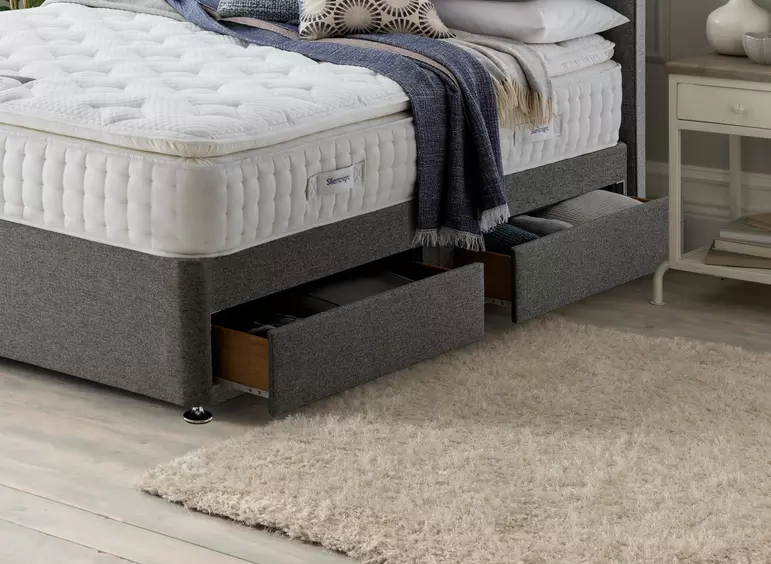 Drawers
There are many different drawer options for beds. You can either have 1 drawer, 2 drawers or 4 drawers. There are also choices of a set of 2+2 continental drawers or sliding drawers available for divan bed bases.
The benefits of a bed with drawers are that they offer flexibility in the storage you choose, as you decide on the number of drawers and where they're placed, so you can ensure you get the best storage for your space. Also, drawers are easy to access and a great option if you need to use the items in the drawer on a daily basis. On the other hand, the main disadvantage is that the drawers don't utilise the maximum amount of space under the bed, so the amount of storage is limited, even if you choose the maximum amount of drawers.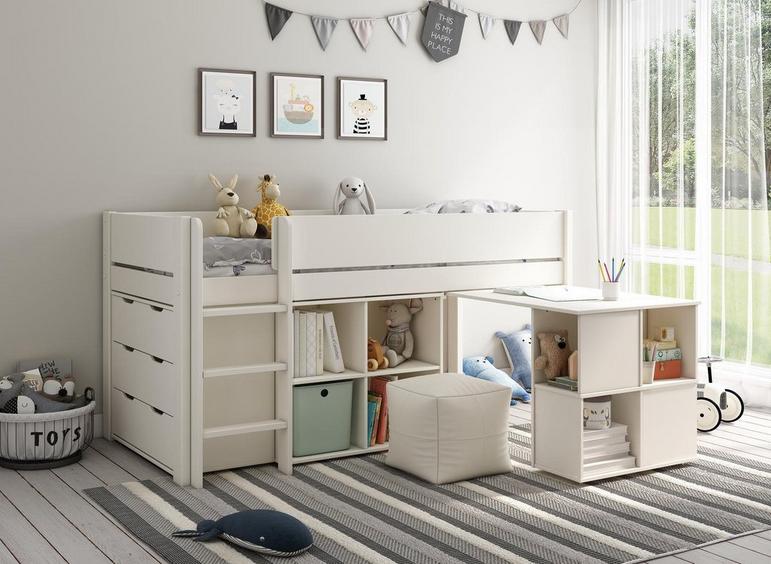 Shelves & compartments
This storage type is more common in kids' beds. Having different shelves and compartments means there's plenty of storage space with easy access for kids to store their belongings.
Overall, the benefits of shelves and compartments are the flexibility of the storage, so you have plenty of options when it comes to meeting your child's needs. These storage options are also easy for children to reach and they can arrange their items themselves. However, although there can be lots of shelves and compartments, the storage space is limited here. If you need to store large items, shelves and compartments won't provide the space you need.
Storage beds for kids
Children's bedrooms are notoriously messy places, often overflowing with toys and teddies, so anything that helps to save space and keep things tidy is a boon for parents. We have a wide variety of different storage beds for kids which offers something to suit every child's bedroom. Older children and teenagers may be happy with a divan bed base or ottoman storage bed for their room, but smaller children may benefit from a storage bed that's specifically designed for them.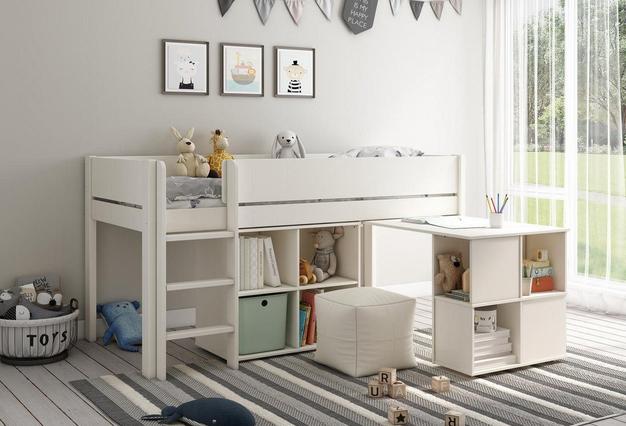 Mid sleepers and cabin beds
Cabin beds are for kids and are simply elevated beds with multifunctional space underneath. Available with wardrobes or shelves, drawers, desk space, seating, or a combination, cabin beds are ideal for helping to keep your child's room tidy.
Our range of mid sleepers are built at mid-height with a top bunk sleeping area and space underneath that can also be used as a desk space, storage solution, or play area. Mid sleepers are lower to the ground than bunk beds and high sleepers, with a shorter staircase or ladder to the top sleeping area.
More popular with younger children up to the pre-teen age, these beds are also great for freeing up floor space and maximising the storage space for all their toys and belongings.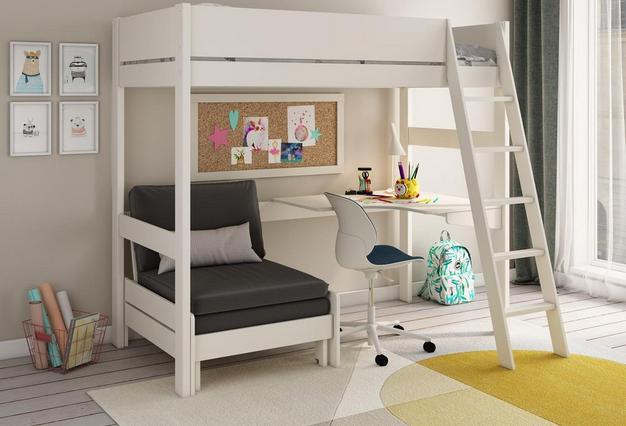 High sleeper beds
Appropriately named, high sleepers are tall with a top bunk sleeping area. High sleepers are also sometimes referred to as loft beds due to their height. They're great for freeing up floor space in kids' bedrooms as they are narrow and compact.
High sleepers are a particularly popular storage bed with pre-teens and teenagers as the designs are generally more grown-up looking.
Some of these beds have a study area underneath the top bunk. This storage space can also be used to slot in furniture like a wardrobe or chest of drawers.
Things to consider with storage beds
Before you buy a storage bed, we suggest looking at the following points to help you make the right decision:
How much you need to store: Think about what you want to pack away. Are the items large and bulky, or is it general clutter? Ottomans are the best storage bed option if you want to store bedding, suitcases or other large items, whereas if you just want to tidy up knick-knacks, a divan bed base with drawers is better.
The space available: When measuring for storage beds, be sure to think about any parts that need room to be accessed. This isn't usually a problem with ottoman storage, but for drawers check you have the space for these to fully slide out, and for sofa beds check you have the room for the sofa to become a bed too.
Measure up for additional design features: Ottomans and divans tend to come as a bed base, so if you want a headboard or footboard, make sure you think about these additions when measuring for your bed.