How to choose between a high sleeper and mid sleeper
Last updated: August 2023
What's the difference between the two?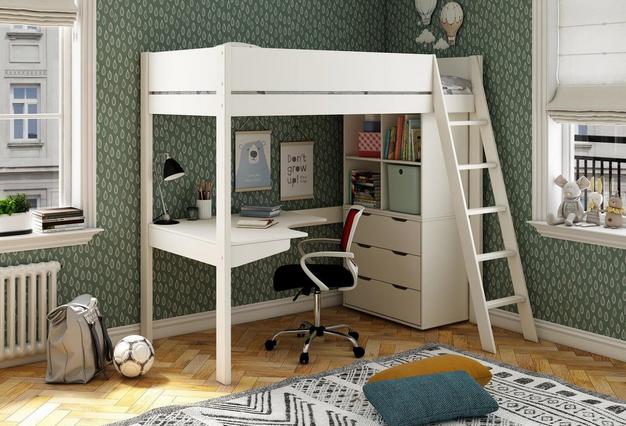 All about our High Sleepers
Aptly named, our high sleeper beds are built high with a top bunk sleeping area and plenty of space below. Sometimes referred to as loft beds, they're designed to free up floor space and make the most of kids' bedrooms
They're particularly popular with pre-teens and teenagers as the designs are generally more grown-up looking. Some have a study area underneath the top bunk while others allow for storage furniture like a wardrobe or chest of drawers. Alternatively, it can be used as a chill-out area when friends come to visit.
Ideal for:
Preteens and teenagers
Maximising study space
Limiting night-time access to TV and games consoles
Space for larger furniture – futons and wardrobes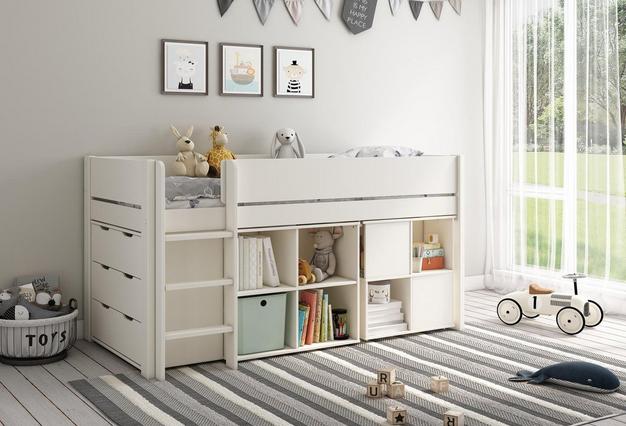 All about our Mid Sleepers
Mid sleepers stand at mid height with a raised sleeping area and space beneath for storage, a desk, and shelves or even a play area. Lower to the ground than their counterparts, they have a shorter staircase or ladder to the top bunk. This makes them popular with younger children up to the pre-teen age. The space beneath is great for maximising your little one's play space. There are also mid sleepers which don't have space to play beneath – these are more suited to older children and provide tons of storage space – think bookshelves, pull out desks and hidden drawer space.
Ideal for:
Young children up to pre-teen
Alcoves and low ceilings
Storing toys, books, and other items
Extra play space for young children
What's the height difference?
As a rough guide, there is around a 70cm difference in height between our mid sleepers and high sleepers. Safety regulations mean that both are completely safe for any youngsters 6 years old and up. However, it's also true that midsleepers are ideal for younger children while highsleepers are better for preteen and teenage years. This is simply because a high sleeper offers more space beneath for older kids, while the lower bunk of a midsleeper is more easily accessed by little legs.
Safety features and precautions
Both high sleepers and mid sleepers are completely safe, but only if you follow certain safety rules:
Make it clear to your child that although the area underneath can be used socially, the top bunk should remain as a sleeping area only and should not be used for playing or socialising – only one person should ever be on the top bunk at one time.
The ladder or stairs should always be used correctly. Your child should not hang off them or sit on them, they should just use them for purpose – that's climbing in and out of the top bunk when going to bed.
Both beds should only be introduced to children aged 6 years and above.
Make sure that your chosen bed is assembled correctly according to its instructions and take the time to regularly check its fittings and fixings to ensure it remains sturdy.
Invest in some bed safety rails or a safety guard for younger children on the top bunk. It will give you peace of mind knowing that they will be protected from rolling and falling out during their sleep.
Make sure there's a safe distance between the top bunk sleeping area and the ceiling in your child's bedroom to prevent any bumps and allow room for manoeuvre. It's recommended to have at least two feet (60.96cm) between the surface of the upper bunk and the ceiling.
Only use a mattress with a maximum depth of 15cm.
What's the life span of high and mid sleepers?
All Dreams kid's beds are built to last and with a little TLC they should see you right through from young ages to teenage years. To make sure you get the most out of your choice, you need to stick to the safety features identified above. It's also important to consider that the life span of a kids bed goes beyond its sturdiness. Think about how long you plan on keeping the bed for your child. Are you happy to upgrade from a their bed once they hit their teenage years? Or would you prefer to buy a bed that lasts them up to a decade? If budget is important, look for a neutral style that can be adapted to their changing interests with bedding and accessories. For parents looking to buy a bed that runs parallel to your youngster's development, a high sleeper is ideal. They offer you enough head space regardless of their height and the underneath can be adapted alongside their changing interests. But there are midsleepers which are great for teens too. Look for those which have storage and a pull out desk instead of space for playing. What's more, if the planned bedroom has a small ceiling or an apex roof, a neutral midsleeper will see your child through without issue.
The best styles for small rooms
All high and mid sleepers are designed to create more floor space in children's rooms – their height and multifunctional use minimises the need for extra furniture and storage. Some designs are particularly useful though such as beds with pull-out desk areas, built-in wardrobes and shelving.
Our best space saving designs are the Anderson mid sleeper and the Anderson High Sleeper. If storage is a problem in your kids room, check out our range of childrens' storage beds.
Mattresses for high and mid sleepers
Mattress depth is important when it comes to top bunks on high and mid sleepers. The mattress must sit lower than the frame to prevent your child from rolling out. The mattress depth should be a maximum of 15cm but it's worth checking the specifications of the individual designs to ensure you make the right choice.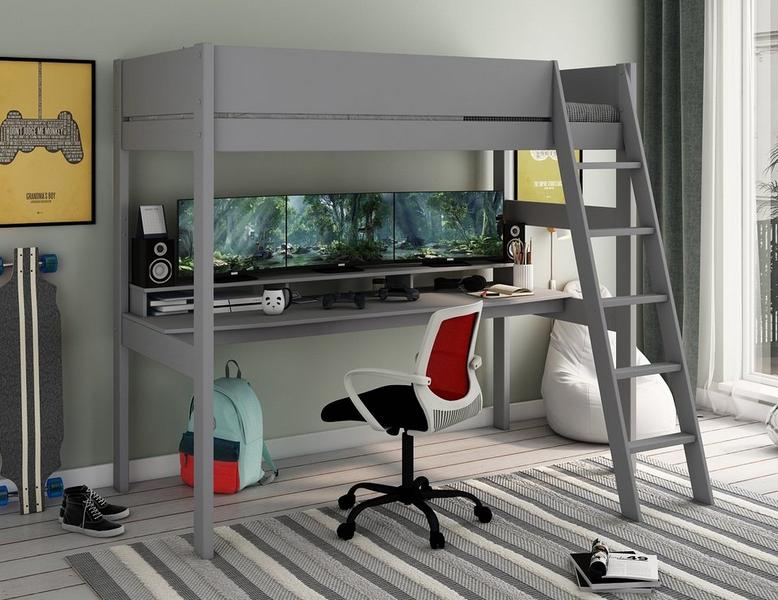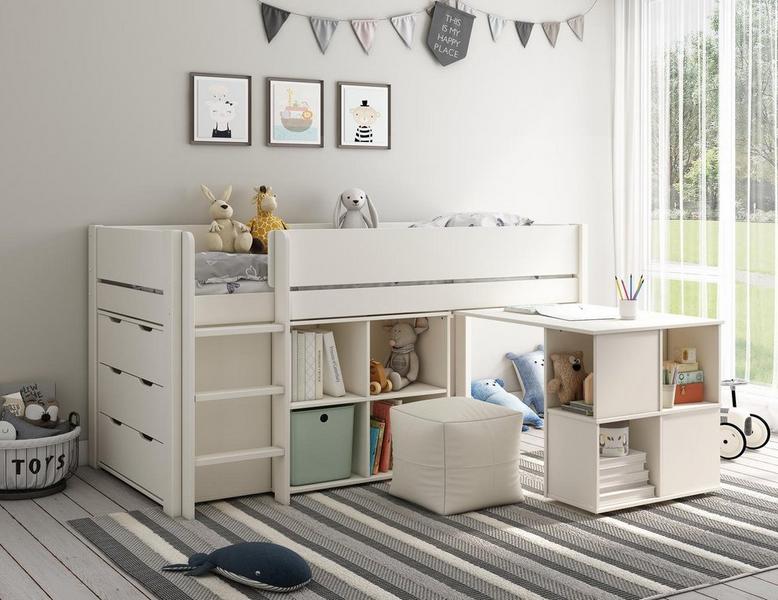 Is there anything else to consider?
Try to think about your child's habits and hobbies, are they into playing make believe and would they enjoy having a den under their bed? Or are they arty/more studious and may benefit more from having some desk space?
Whether you want stairs or a ladder
Although both options are safe when used correctly, you may find that stairs are easier for your little ones to climb while ladders are typically more suited to older children.
How you'll use the space beneath
There are a range of ways you can utilise the extra space you get with a high or mid sleeper. Some of the most popular options combine furniture and desk space to give your child's bedroom a homely feel. Space for drawers and shelving, as well as a chill-out zone can really transform a small bedroom into one that feels much bigger. It's also nice to separate the sociable den area from the sleeping top bunk, as once they're in bed they won't be able to watch TV or play on their games console!