Divan bed base buying guide
Last updated: October 2023
What are the benefits of divan bed bases?
Divan bed bases are one of the most popular choices for bed frames – and for good reason. They have several key benefits to help you achieve the bedroom of your dreams.
The platform top is super sturdy
Reinforced frame structure is long-lasting
Optional hidden storage makes the most of your space
Divan bed bases come in a huge range of colours, styles, and fabrics
Easy-to-assemble
Whether you're looking for a grand bed for your master bedroom, want to make the most of a guest room, or need lots of back support, a divan bed base is a great choice. You don't have to compromise on style to get loads of functionality. It's easy to personalise your divan bed base with headboards and even choose the type of feet you like best.
There are also benefits to comfort, particularly if you want to add a touch of firmness to your mattress. For more information, read our article on Are divan bed bases comfortable?
Divan bed base types
Known for being supportive and secure, divan bed bases differ from other bed frames by having a platform top rather than slats. Made from hard-wearing wood, our divan bed bases come in two main types: platform and pocket sprung.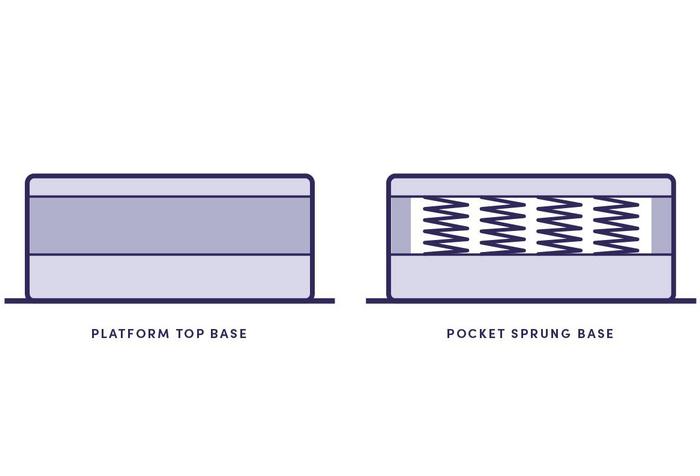 Platform top bases
Platform top bases, also known as solid top bases, have a solid panel top which offers firm support and a sturdy base for your mattress. Our Signature Ottoman Base is a great example of this and comes in a variety of colours and sizes to suit any room.
Pocket sprung bases
With a layer of pocket springs built into the base, these frames are great for providing that extra level of comfort and support. The springs are reactive, taking some of the pressure off of your mattress and increasing its lifespan. Take a look at our Flaxby Sprung Divan Bed Base, which has 1000 springs and comes in a range of colours.
Types of divan bed base storage
One of the biggest assets of a divan bed base is the storage. Many divan models come with drawers in the base, which are neatly tucked away when not in use. Our divan bed bases have different options available, so you can pick from 0, 2 or 4 drawers, as well as what kind of drawers best suit your storage needs.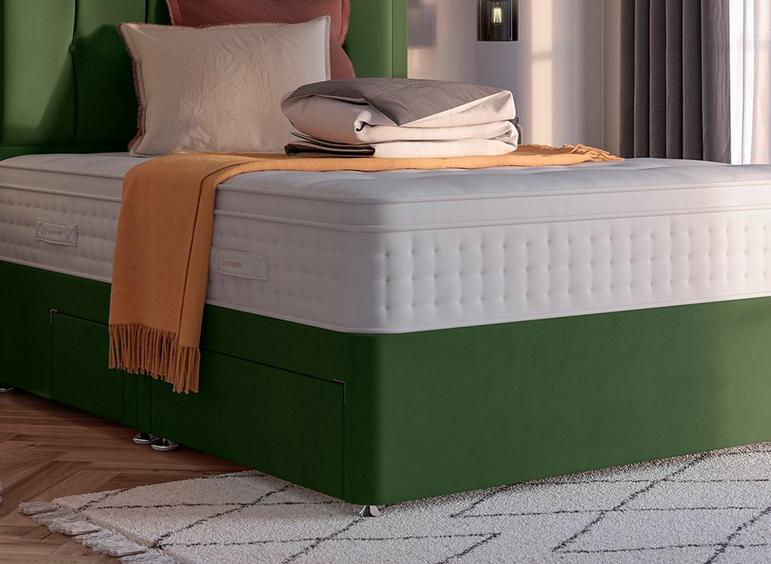 Continental drawers
Continental drawers are half-sized drawers – a helpful option if you already have other furniture such as bedside tables or are short on space between your bed and the wall. With some divan bed bases, you have a lot of flexibility with the storage. Choose from 2 or 4 full-sized drawers, or 2+2 to combine with continental drawers.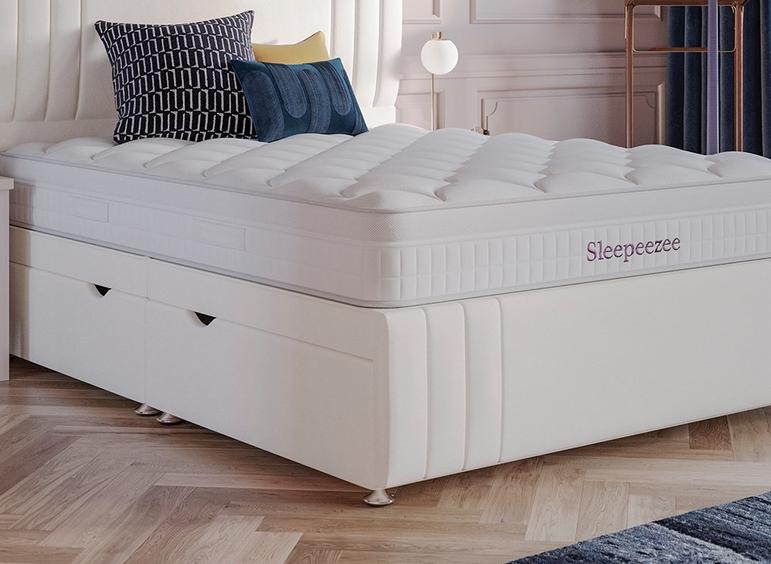 Ottoman
Ottoman divan bed bases are a great storage solution if you're tight for space. An ottoman bed lifts up from either the bottom or side of the base, giving you the space beneath your mattress to use as storage.
Learn more about Ottoman bases in our Ottoman bed buying guide.
Types of feet on divan bed bases
Although a small detail, the feet you choose for your divan bed base are important. Each type of foot has its own pros and cons, as well as stylistic considerations. Let's explore the different options: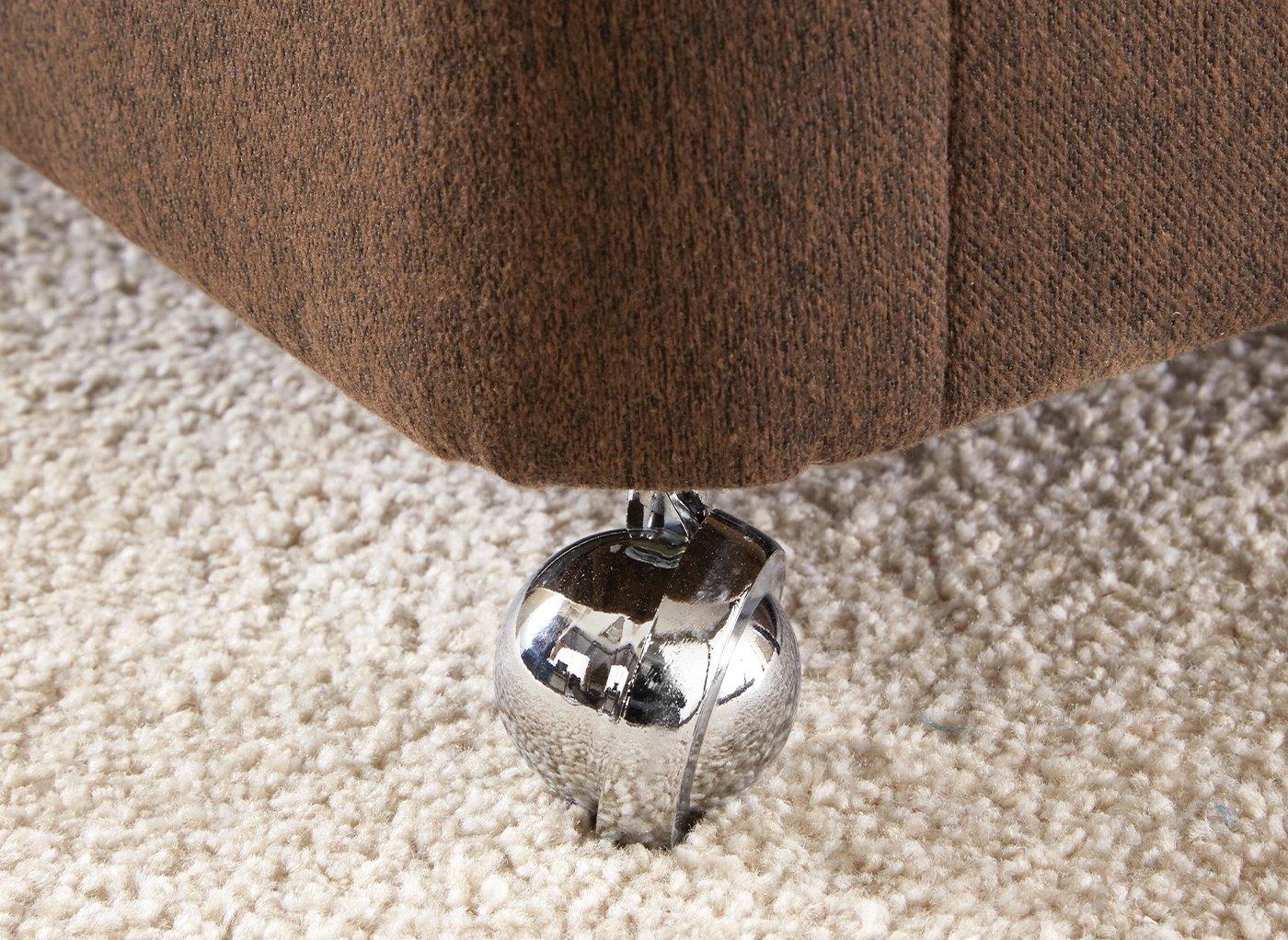 Castors
Castors are plastic or metal wheels that you can fix to the bottom of your divan bed base to make it easier to move it around. This is great for when you need to clean under the bed or move your bed to decorate. If you have hard or smooth floors, you will need castor cups that stop the bed from rolling around.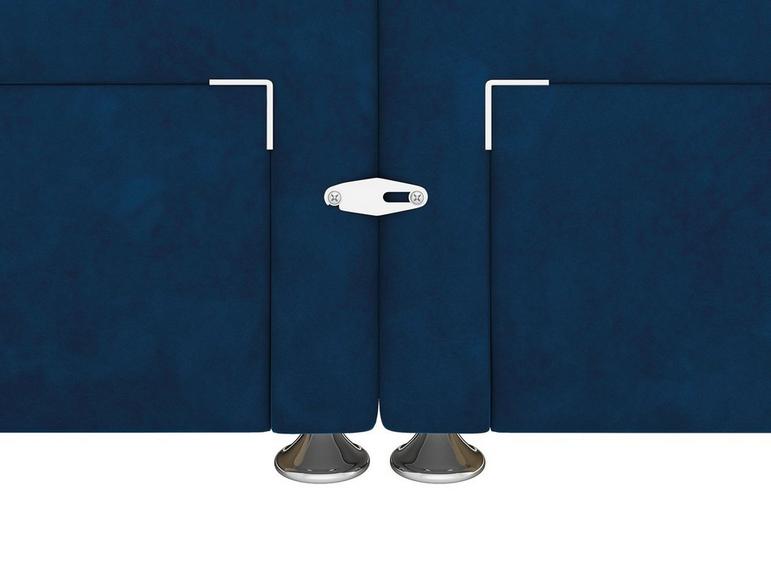 Glides
Glides are sturdy flat feet that are attached to the bottom of your divan bed base. They aid in moving your divan bed base around the room, however, they do not move as easily as castors. Glides are perfect for both carpeted and smooth flooring as they ensure your divan bed base will stay in place.

Legs
Legs will keep your bed secure and give it more height, making it more comfortable to get in and out if you prefer a higher bed. Make sure to choose tall legs if you opt for drawers so you can still make the most of your storage.
Are divan bed bases easy to assemble?
Yes, divan bed bases are easy to assemble. They will arrive in one part (single or small single) or two parts (small double, double, king or super king). You will simply need to attach the feet that you have chosen to your base and connect the bases together with the linking bar. If you need some assistance, take a look at our assembly options to see what we can do to help with this.
How do I attach a headboard to my divan bed base?
It is very simple to attach a headboard as divan bases come with pre-drilled holes beneath the fabric where you screw in the connecting bolts. All of our divan bed bases have matching headboards available for you to buy, which are made to fit without any hassle.
For strutted headboards, screw the headboard bolts into the holes until secure, leaving a slight gap. Carefully lower the headboard over and adjust it to your preferred height, then check its level and tighten.
If you have a full height headboard, place it against the head end of the divan bed base and line it up with the pre-drilled holes in the divan bed base, keeping the bottom of the headboard flush to the floor. Insert the headboard bolts into the holes and screw clockwise until tight and secure.
View our divan assembly guides
Manufacturer's assembly guides

Follow the link below to view your manufacturer's care guidance online.
How to style your divan bed base?
With so many colours, materials, and styles available, you'll find a divan bed base that complements your bedroom. All of our divan bed bases come wrapped in soft- touch fabric to give your bedroom a cosy, inviting feel but there are also plenty of colour options to customise your bed. Whether you like a cosy bedroom with warm neutrals like cream and beige, or trendy shades of green, a divan bed base is a great choice.oom.
Discover the latest bedroom trends and tips with our home design inspiration.