What is Sleepmatch?
This is the match you've been waiting for. Our bespoke Sleepmatch technology finds your perfect mattress in just 3 minutes. By mapping your body and movement, we take guesswork out of the equation so you can focus on getting acquainted with your ideal fit. Simply pop into your local Dreams branch and one of our Bed Experts will show you how.
Let us help you find a bed you love with Sleepmatch, only available at Dreams.
Quick questions
Will I have to pay to use Sleepmatch?
Absolutely not. Our Sleepmatch service is completely free. We'll even offer you a hot or cold drink to enjoy whilst you digest your results.
How does Sleepmatch measure my body?
We've spent 20 years of perfecting the science of Sleepmatch, which is based on 18 statistical measurements of the body. The Sleepmatch process uses "3D fit technology" to analyse thousands of calculations to measure your movement and support needs. This creates your very own personal sleep profile, so our Bed Experts can find the perfect mattress to give you a great night's rest.
How long does it take?
It only takes 3 minutes of your time to find the perfect mattress for the way you sleep. All we ask is that you lay down, relax and follow the instructions… and try not to fall asleep in the process!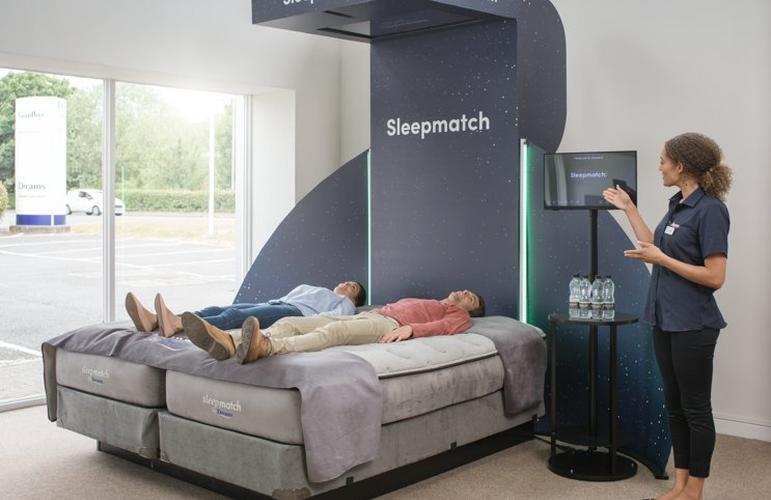 Why use Sleepmatch?
Firm and soft, springs and foam – they're all just words until you've experienced them for yourself. Mattresses are complicated by nature because one size doesn't fit all. But don't worry. Sleepmatch saves you hours of scrolling and guesswork by analysing your sleep needs and matching them to a mattress you're sure to love. Once you've received your results, our Bed Experts will guide you to great night's sleep.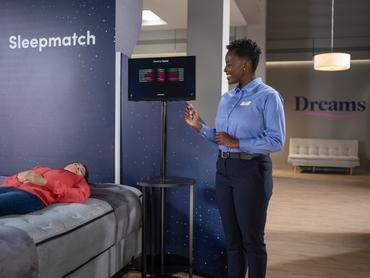 1. Understanding how you sleep
First off, you'll have a quick chat with one of our lovely Bed Experts about how you sleep, your preferred night-time position and any sleeping difficulties you may have.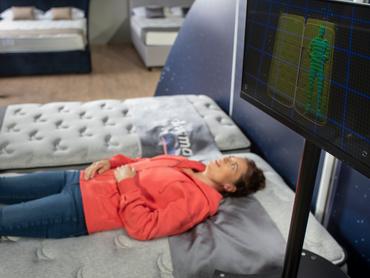 2. Getting measured up
Next, you'll be asked to lie down on our special Sleepmatch bed so our technology can work its magic, mapping your body, sleeping position and support needs in 3 short minutes.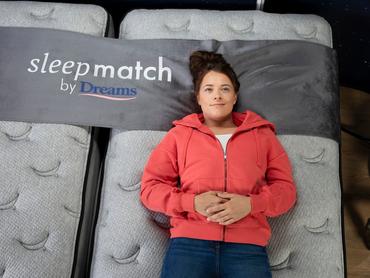 3. Recommending your perfect mattress
Hello, great sleep! Sleepmatch will share our top recommended mattresses just for you and the way you sleep. You'll then be invited to try out your chosen mattress for comfort. It's as simple as that.
Why is it important to have a mattress that properly supports my body?

During REM sleep, your muscles completely relax. That's where your mattress takes over to provide your body's support. If your spine isn't properly supported, it can lead to aches and pains, or even sleep disturbances which decrease your sleep quality and your body's ability to restore itself. That's why it's so important to find the right mattress to support your posture.
What information do I need to provide?

One of our friendly Bed Experts will ask you a few simple questions before Sleepmatch begins. This includes your name, gender, age, height, weight and, most importantly, how you currently sleep. These answers help guide your Sleepmatch results, in combination with your body and movement measuring.
Does my sleeping partner need to be with me?

We'd recommend visiting the store together if you can. We know choosing the right bed is a really important decision, and this is the best way of ensuring accurate results. However, if they cannot make it for whatever reason, you can also answer the questions on their behalf to help find the perfect mattress for you both.
What is a blended mattress recommendation?

It's common for sleeping partners to have different support needs. This means Sleepmatch will occasionally recommend a split tension mattress, which are divided in two with different levels of firmness on each side. This means both you and your partner can enjoy your perfect support level without impacting the other.
Do I need to move while laying down?

To start, you'll need to lay down flat on your back and be as still as possible so the Sleepmatch technology can take measurements. Once complete, you will then be asked to move into your preferred sleeping position for further analysis. You will feel gentle air pressure beneath you while the technology takes its calculations.
What if I don't like the recommended mattresses?

Our Bed Experts will recommend a mattress with optimum support for you based on Sleepmatch's results. If our top choices don't suit your personal comfort preference for any reason, we'll be on hand to help you choose the perfect mattress.
Is there a minimum age limit to use Sleepmatch?

Sleepmatch is recommended to anyone over the age of 16.
Are there any weight restrictions?

The minimum weight required to use Sleepmatch is 6 stone/38kg, but there is no maximum weight limit.
Why don't you recommend using a pillow when trying Sleepmatch?

We know it's comfy, but it's better to skip the pillow as it might interfere with your spinal alignment during Sleepmatch's measurements.
Does my local store have Sleepmatch technology?

We think everyone deserves a bed they love, so we've installed Sleepmatch in all our British stores. To find your nearest one, please use our store locator. Unfortunately, we're not currently able to offer Sleepmatch in any of our Northern Ireland stores.
Is there an additional warranty provided after using the Sleepmatch system?

There's no need for an additional warranty after trying Sleepmatch. We offer a 100-Night Comfort Guarantee on all our mattresses as standard to make sure you've found your perfect fit.
Do I need to book an appointment to use Sleepmatch?

We'd always recommend booking a Sleepmatch appointment to make sure one of our helpful Bed Experts is available to help you in store. However, if you can't find an appointment, simply head down to your local Dreams store during their opening hours and ask to try Sleepmatch.