Ever heard of the term 'hygge'? Like us, you might've wondered how to pronounce it correctly, turns out it's hue-gah. So, what is hygge? In short, it's a Danish concept – a Scandinavian way of life. It encompasses warm and fuzzy feelings such as cosiness, relaxation, and togetherness. A quick and simple way to add this concept into your life is with a hygge bedroom. Read on for our tips and advice for a hygge master suite.
When it comes to interior design, hygge is a trend that has gained popularity over the last 5 years or so. If you're looking for bedroom ideas, read on to find out more about hygge and how to bring it into your sleeping space. Our tips include ways to create relaxation, cosiness and tranquillity for a bedroom that you'll love spending time in. 
What is hygge?
The hygge definition is 'the feeling of cosiness and contentment evoked by simple comforts, such as being wrapped in a blanket, having good conversations, enjoying food, etc.' Other enjoyments include things like reading a book in a candlelit bubble bath, spending quality time with loved ones at home, or going for a long walk in the great outdoors. 
A hygge home, in terms of interior design, encapsulates tranquillity. Think soft and cosy textures, neutral colourways, dim lighting, and pared-back furniture.  
H
ygge lifestyle
The first way to bring some hygge into your life is to practise being present. This involves letting go of the past, not worrying about the future and enjoying the moment you are in.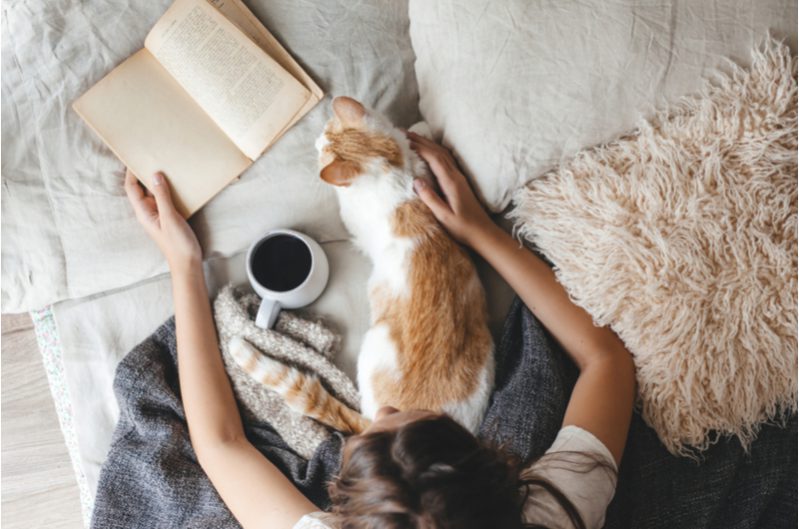 This quote by Bill Keane explains the art of being present, "Yesterday is history, tomorrow is a mystery, today is a gift, which is why we call it the present." Here are some ways to practice being in the present moment: 
Apply

 your full attention

 – whether you're having a conversation or reading a book, try to fully absorb yourself and notice everything.

 

Meditate

 – become aware of your senses and use them to ground you. Look at your thoughts as little passing clouds in the sky and then let them go

.

 

Challenge your habits

 – try something new or find a new way of doing certain things to help you grow.

 

Reflect and journal

 – write down what you're grateful for each day and be thankful for what you've achieved.

 

Take a digital break

 – switch off distracti

ng devices to force you to be present in the moment.

 
For more ways to start living in the present moment, check out this article with 10 tips. 
Being present is easier if your environment feels safe and comfortable. That's where hygge home décor comes in. Our ideas for hygge interiors include:  
Faux fur and chunky knit throws artfully strewn onto the bed

 

Soft lighting from candles

 

Scandi furniture with slim legs

 

Natural touches such as bedroom plants, plus wood and wicker accessories

 

Neutral and pastel wall colours

 
Hygge bedroom design
 ideas
Let's look at cosy bedroom ideas specifically. If you're looking to create a sleeping space where you can feel present and embrace the Danish concept, we've got plenty of ideas below.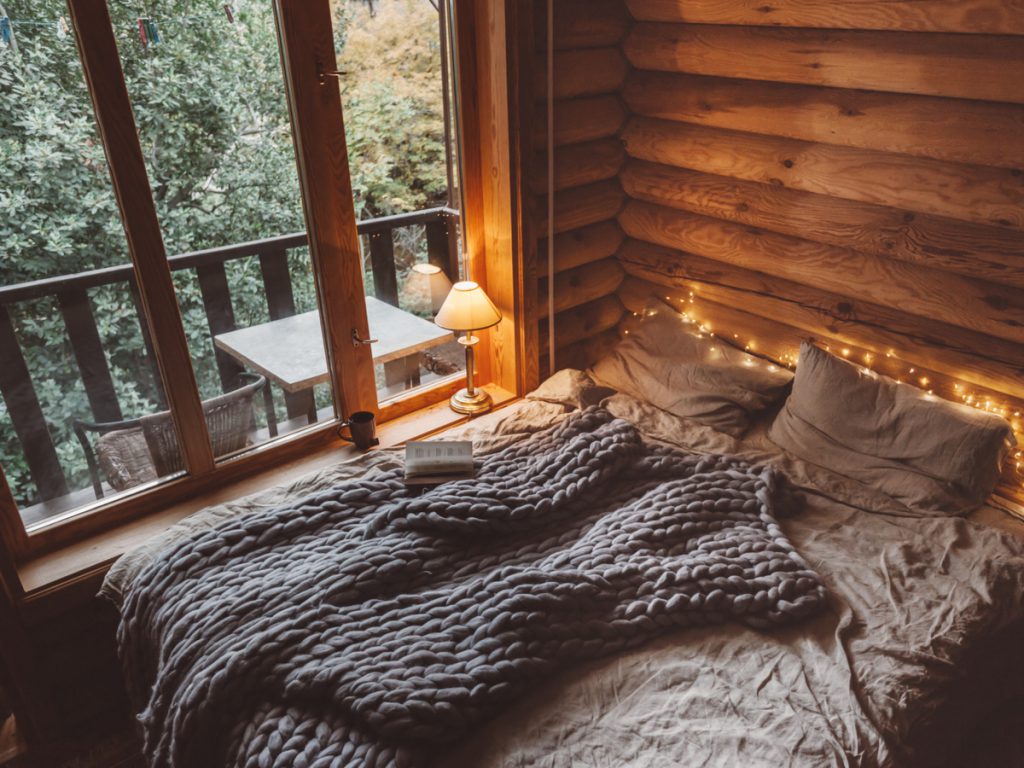 1. C
hoose a cosy fabric bed
An upholstered bed frame will add cosiness and a tactile focal point for your hygge bedroom. Your bed is a place where you can sip some hot chocolate and read a book, spend time with your partner, enjoy breakfast, or meditate. 
2. Snug blankets and fluffy pillows
Add to your cosy bed with some textured blankets or throws, bouncy pillows and scatter cushions. Fabrics like faux fur, waffle knit, silk and brushed cotton are all great shouts for making your bed a relaxing and comfy spot. Check out this video on how to make a bed, perfectly:
3. Thick statement rugs
A statement rug will not only keep your feet shielded from cold hard flooring, but also add texture and luxury. Even if you have carpet, a statement style like a faux sheepskin rug is oh-so-Scandi-chic and perfect for burying your feet in while you practise being mindful and present. 
4. Hygge lighting
Lighting has a big impact on atmosphere. To add tranquillity to your hygge bedroom, we suggest lighting some candles, hanging up some fairy lights, and investing in some dimmable bulbs to create a soft and inviting glow. 
5. Neutral colour schemes
Neutral and pastel colours are great for creating a soothing atmosphere. There is some psychology behind certain bedroom colours, too. For example, blue is said to be calming while lilac is believed to be relaxing. Check out this article, 4 Bedroom Colour Schemes That Will Make You Happy, for more inspiration. 
Related: Beige beds
6. Rustic furni
ture
The Danes dislike waste, so upcycling old furniture is a big tick for hygge living. Shop around at car boot sales and charity shops to get your hands on a piece of vintage furniture and do it up as you please. Sanding down old wood and repainting it can achieve a shabby chic look that's perfect for adding cosy charm. To help get your creative juices flowing, check out this Upcycling for Beginners article. 
7. Plants a
plenty
Bring nature indoors with plenty of potted plants in your bedroom for Scandinavian style. Not only do plants add some pretty greenery to admire, certain types also offer health and sleeping benefits too. Here are 7 Bedroom Plants to Help You Sleep Better. 
8. Relaxing scented candles
Soft and cosy candlelight epitomises hygge. In fact, Meik Wiking in his bestselling book 'The Little Book of Hygge: The Danish Way to Live Well' states that we should place candles in every room. A scented candle is a great way of creating a calming atmosphere, and the light is flattering too. 
9. Add touches of texture
We've already mentioned faux fur throws and sheepskin rugs, but there are more ways to add texture to your hygge bedroom. Think about the walls; you could add texture and interest in the form of a statement stag head (faux of course). These ornamental pieces offer a Nordic touch and come in many styles: wooden, polished brass, wicker, etc. You could also add some textured weave curtains – great for adding another layer of interest to a bedroom.  
For more ideas on how to make your bedroom a sleep sanctuary, listen to this podcast with Dr Pixie Mckenna. 
Creating hygge for small spaces
There are plenty of reasons why hygge is perfect for small spaces; the first obvious reason is cosiness. It's much easier to feel snug in a small bedroom than it is a large one. Another reason is that less is more. You don't need a lot of space or furniture to master the art of hygge as it's all about pared-back style and tranquillity, not fuss. Additionally, you can create a Hyggekrog: a nook or cranny in your home where you can practise hygge. A bay window with a seating area is the ideal pick for creating a hyggekrog. Why not add some soft cushions, a cosy blanket, and a stash of books to enjoy some me-time in the present moment? 
So, that's how to hygge. We'd love to hear about your hygge interiors, please share your stories with us in the comments below. 
More from the Sleep Matters Club