So you've decided to move house, you've chosen your new property, organised removal vans and you're ready to embark upon your new and exciting adventure. However, what lies ahead of you is the gruelling task of packing. Arranging all of your belongings into boxes can be a lengthy and dreaded chore, but it is also an opportunity to filter through everything and discard old and unused items.
When adapting to a new home, it's best to see it as a completely fresh start and dispose of clutter accordingly. If not to make your moving process easier, decluttering is a great way to create extra space in your new home. Even if you'd consider yourself a hoarder, decluttering before moving is surprisingly easy to do with these simple measures.
Start decluttering early before moving
Whether you're moving in a month or in 6 months, the earlier you start to declutter before moving, the less stressful your move will be. Simply start by collecting four boxes, or bin liners, that are not likely to break and label them 'keep' 'give away', 'rubbish' and 'sell'. Work through one room at a time, going through every cupboard, drawer and shelf.
Decluttering expert and CEO of ACK Organizing, Alison Kero says
'Plan for the space you're moving to, not from. In other words- think about what fits in the new space not what is already fitting in your old space. This includes furniture as well. If it's too small or too big, it won't work for the new space. You might as well figure that out sooner rather than later.'
If something is broken or damaged it belongs in the rubbish bag, however if it is still in a good condition, try to sell it. What is trash to you could be treasure to someone else. Sell your items on sites like eBay or Gumtree, or simply email friends or colleagues with a description of the item and price. A general tip is to sell an item at around half the price you bought it for, as you are trying to get rid of it.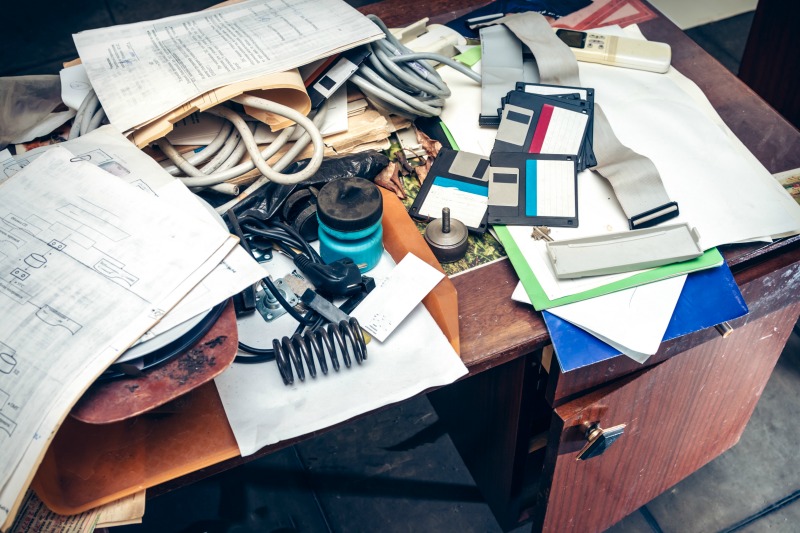 How should I organise before moving?
Be ruthless! It's important to be selective during the declutter process and ask yourself if you really need each item. A general guide is to discard anything not used within the year. If an item of clothing no longer fits you or you no longer wear it, give it to charity.  According to UK Government statistics, there are around 2.4 billion pieces of unworn clothing lying in the nation's wardrobes.
With personal keepsakes, keep them in a separate box to avoid any damage. Although it it's easy to hold on to anything with sentimental value, you'll feel better once you've filtered through the items and discarded anything you don't deem significant enough.
Seth Kakuske, franchise owner of Eco-friendly clutter removal service Junkluggers, states
'When decluttering, often the thought of letting go is a lot harder than the act of letting go. In Psychology, this is called the Endowment Effect and is defined as the hypothesis that people ascribe more value to things merely because they own them. Donating your unwanted items can make it easier to let go. Knowing that the items will be supporting a good cause, or benefiting someone less fortunate, helps overcome some of that psychological bias that makes items feel like they're more valuable than they really are. It also turns the decluttering process from an overwhelming task, to a rewarding and fulfilling experience'.
Organise paperwork
It might be easy to hold on to every document that could be useful one day. However, getting rid of years' worth of paperwork is both satisfying and quick to do. Obviously keep all essential documents such as passports, birth certificates and insurance documents in a folder, then shred the unimportant or outdated ones. If you want to be extra cautious, scan the documents to your computer so you have them as a digital file.
HMRC recommend holding onto records, such as bank, credit card and other personal finance documents, for 6 years after receiving them.  So if you find documents that are over 6 years old, send them to the shredder.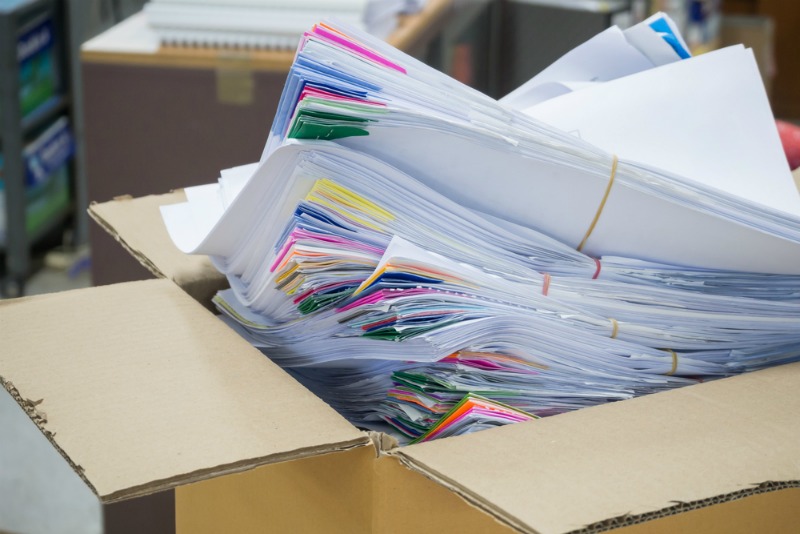 Keep decluttering
When you arrive at your new home, it may to tempting to furnish it with unnecessary items to try to create a homely vibe. However, do not add extra clutter that you'll only have to throw away later. Make decluttering part of your everyday routine and you'll soon notice how much space you save!
Related – The Stress Free Checklist For Moving Home
Have you got any decluttering tips to help when moving house? Let us know in the comments section!
More from the Sleep Matters Club