Everyone loves a good bedtime story. It's a time when both children and adults can be transported to far away places, where imaginations can run wild, and is a wonderful way to spend quality time together. Top children's author Michael Rosen recently wrote a fantastic article for Sleep Matters on the importance of bedtime stories, and now we've asked a handful of other children's authors to spill the beans on their favourite bedtime tales, whether their children have any favourites, and what makes a good story.
Here's what they had to say…
Pat Hatt
My favourites as a kid were Dr Seuss books. The Cat in the Hat and Green Eggs and Ham were two that stand out. I liked the repetitive nature I suppose, as it was fun.
There are no kids yet at my place, just two cats – and they'd rather chew on a book then have it read to them. But I have a seven year old cousin I've read to on occasions, and she enjoys all kinds, more than I ever did as a child. Where the Wild Things Are and There is a Monster at the End of This Book seem to be a big hit with her. They are fun stories, and she enjoys getting to the end of them. I think good endings are a great factor in the enjoyment.
A good bedtime story is anything that gets the imagination working. It can teach a lesson or be utter nonsense. But as long as it is fun, it can be enjoyed by both kids and adults. These kind of stories are important as they promote the usual stuff you hear, literacy, imagination, etc. But they are also a great tool for bonding between two people: whether child and parent, or 30 year old and 7 year old cousin.
Pat is the author of 39 children's books and has a penchant for rhyming. Check out his website here.
Jenny Colgan
As a child, I loved Anne of Green Gables. I couldn't understand why my mum got so tearful reading it to me until I re-read it years later. It's not really about Anne, it's about lonely Marilla who takes her in and learns how to love. It's a wonderful book.
I have three children and they love me reading to them. Big popular stories for the little ones (we live in France) have always been Je Veux Mon Chapeau (I Want my Hat Back), which is utterly hilarious whatever language you read it in, Charlie and the Chocolate Factory has been popular with all three, and my eldest loved Little House on the Prairie and I am David, which I also found incredibly moving to read as an adult. He's 10 now, though, so has kind of launched himself off to The Hunger Games and so on.
What makes a good bedtime story? I think short chapters with cliffhangers at the end. And I really do think they're important. Nothing is cosier than being curled up with mum or dad, having a story. It's the most fun part of parenting; I have no idea why you'd deprive either your child or yourself of such wonderful moments.
Jenny's book Polly & The Puffin is perfect for bedtime stories and early readers and is out now. Head over to Jenny's website to learn more about her and her work.
Andy Griffiths
I loved Dr Seuss books like One Fish Two Fish Red Fish Blue Fish & The Cat in the Hat. Enid Blyton's The Folk of the Faraway Tree is one I remember very fondly. I think what they all had in common was a sense of playfulness—both in terms of language AND action—and, crucially, a slight sense of danger and mystery. The Cat in the Hat is an anarchist. There is a lot of unexplained stuff going on in One Fish. And the fun of the Faraway Tree was always tempered by the possibility that you might get trapped for an unspecified time in one of the rotating lands at the top of the tree.
I especially favoured shorter books that featured good rollicking rhymes, which would involve both me and my daughters reciting them and performing any actions that were appropriate. This made the reading of a book as much of a play and bonding activity as a language activity.
What really seems to bring the stories alive is when there is a sense that the narrator of the book is talking directly to the child. Sometimes they will call the child's attention to a particular detail. Sometimes they will pose a question or offer a judgement on a specific character. Other times they may just go off on a digressive tangent. But they never forget that there is a reader on the other side of the page. Roald Dahl, Enid Blyton, AA Milne and Lewis Carroll all shared this characteristic.
Not only are bedtime stories an opportunity to bond and share a special experience together, but an opportunity to extend a child's language and conceptual capabilities. Good stories provoke feelings of wonder, laughter – and sometimes fear. They provide an amazing opportunity to experience the darker side of life in a safe and controlled manner, and in this provide an important cathartic outlet.
Andy is one of Australia's most popular children's authors. Take a look at his website here. 
Frank Cottrell Boyce
We didn't have a lot of books when I was little. We lived in a tiny flat on Stanley Road in Liverpool and there wasn't much room. So the books were from the library. The nice thing about this was that they were read and then they vanished, leaving images and notions in my head that were not attached to titles or names!  For years and years, I thought I'd dreamed Where The Wild Things Are and The Tiger Who Came to Tea!
I have seven children ranging in age from 30 to 10, so there's been a bedtime story ritual going on in the house uninterrupted for three decades.  We fight over who gets to do that.  Normally my wife wins. I love reading something where I get to 'do voices' – Just William for instance. But I also love something you can really get lost in.  I even read Lord of the Rings as a bedtime story. I'm not sure how long it took! The favourite is probably Edith Nesbit.  She's so funny, and if you're reading it out loud, you get the credit for the laughs.
I think reading aloud is important. Many books that might seem difficult to a child reading alone become vibrant and direct when read out loud.  The vocabulary in Just William for instance is comically sophisticated. That would be a stumbling block if you were a child but it's hilarious if you're reading it out. Same goes for all of Edith Nesbit, whose dialogue is pin-sharp but very period. If you read it with the right intonation, it comes to life.
Frank is a British screenwriter and author. His most recent book, The Astounding Broccoli Boy, is out now.
Marc Clark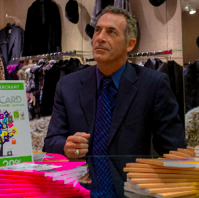 I always loved to hear anything from Dr Seuss: The Cat in the Hat, Green Eggs and Ham. Even from an early age, I appreciated the humour and how clever the author was. I always wondered why other books didn't have all of the craziness and wild imagination of his books. I've always believed that the best entertainment is when the author/movie maker/playwright takes you to another world and Dr Seuss never failed at doing that.
My children loved Dr Seuss as well, but my son adored Where the Wild Things Are and anything by Maurice Sendak. He especially liked Pierre because I would read it to him with a French accent, "I don't care". My daughter loved to read Goodnight Moon. And, of course, I would make up stories for her myself.
I believe quiet adventures that spark imagination and have happy endings that send you off to sleep, knowing that everything will be fine, are the type of stories that are perfect for bedtime. I tried to do that with my first collection of stories: The Princess Fables.
Marc is an American children's author, and his award-winning book The Princess Fables is available now.
 Do you or your children have any favourite stories to read at bedtime? If so, please let us know in the comments below.