Your bedroom is your personal haven to retreat to after a long day. For reading, watching TV, and unwinding – it's important that you love your interior design. From traditional aesthetics to modern styles, there are so many to choose from to express your personality. To help inspire you to jazz up your boudoir, we've delved into some of our favourite bedroom design ideas…
14 bedroom design ideas to transform your sleep space
There's something for everyone here, whether you're looking for budget-friendly, high-end or just something a little different.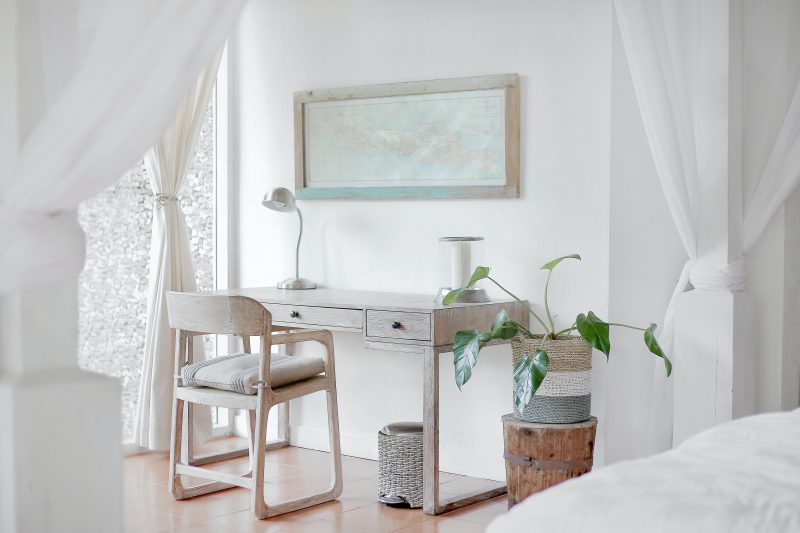 1. The working bedroom 2.0
This is a trend we would never have expected to see in those pre-pandemic days. With working from home part of the new normal, and remote work on the up, it's important to work out how to supercharge your bedroom space for maximum productivity and health.
While it's best to keep your bedroom as a sleep-only zone, those without home offices may just have to use their bedroom to work from. Don't worry, there are ways to do this with minimal damage – whether that's physical, mental or sleep-related.
Ideally, you should create a dedicated workspace. Perhaps a corner or alcove, preferably with natural light from a window. The NHS lists 7 simple tips to tackle working from home.
Here are some of them, along with some more ideas:
Invest in a desk and office chair if you can. If you're not able to buy much, try using a chair you already own and making it comfortable with some pillows or cushions.
Support your feet with a box or footstool
Raise your laptop with a laptop stand, or rest it on some stacked books to avoid straining your neck
Set and stick to a routine – it's best to get dressed, eat breakfast and relax before you clock in
Take breaks and stick to your normal working hours, remember to switch off and enjoy your home life
Stay connected – use your breaks to keep in touch with friends and family
Set boundaries with other members of your household – let them know when you need some quiet time to concentrate and be thankful for their co-operation
Go outside every day, even if it's for a short walk – the fresh air will do you good.
Read more – The Working Bedroom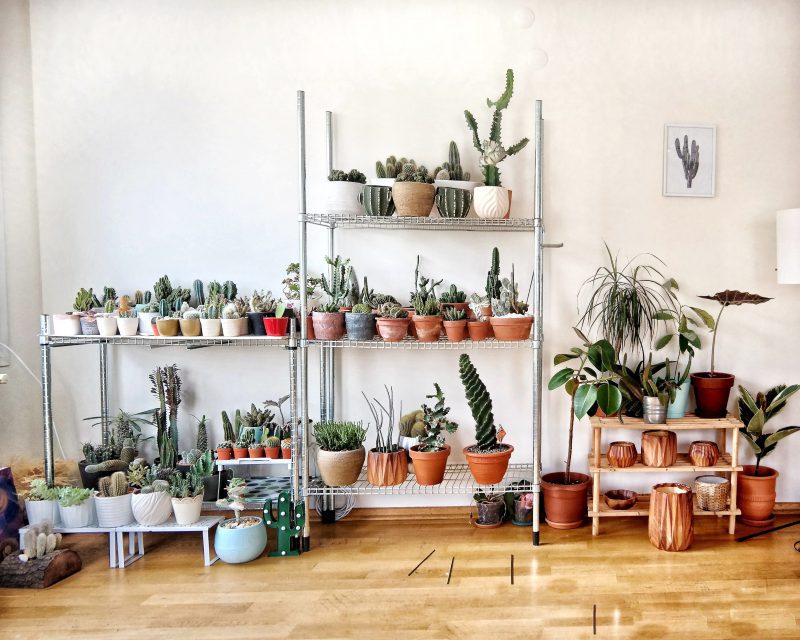 2. Botanical 2.0
Now we're becoming more aware of climate change and how to be more environmentally friendly, it's natural to see more botanical bedroom designs.
Add some greenery to your bedroom using real plants, these look particularly good against plain white walls or wooden shelves. Add a botanical print wallpaper and zingy colour palettes too.
While making your space beautiful, the such biophilic decor has also been said to have health benefits. According to a Journal of Physiological Anthropology study, exposure to indoor plants can reduce stress. They are also said to purify the air. Certain plants can even promote a better night's sleep.
Read more – Botanical bedroom designs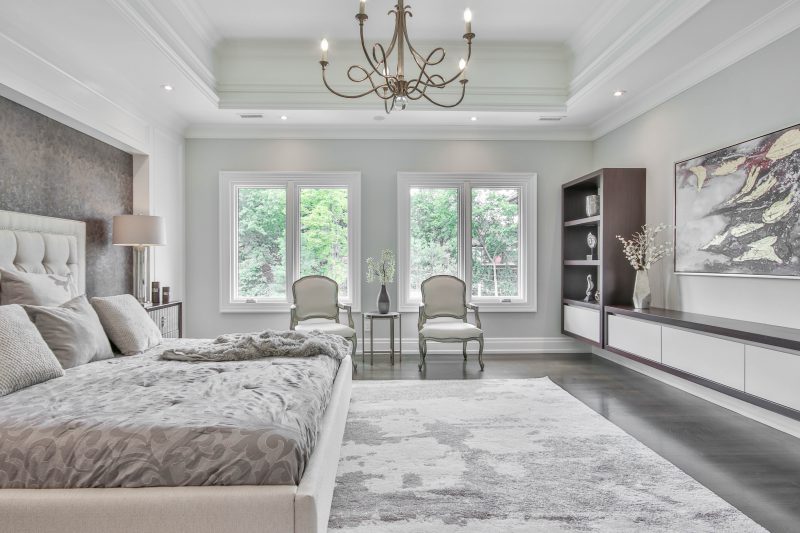 3. The resurgence of neoclassical
Opulent and classic, the neoclassical bedroom trend is all about making a grandeur statement. Think of an 18th-century French chateau with shabby chic furniture and that's neoclassical in a nutshell. Elegant and sophisticated, this trend features style elements such as wall panelling, chandeliers, muted colours with pops of metallic, plus intricate patterns like baroque.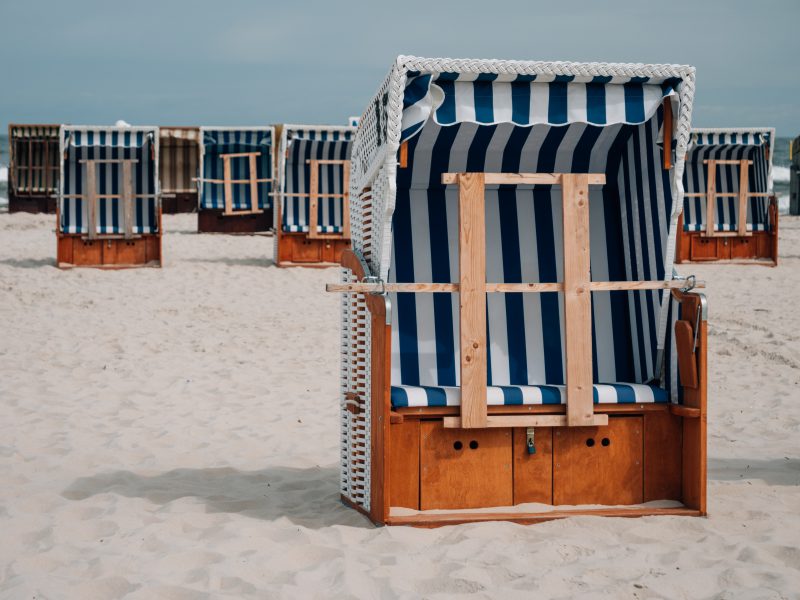 4. Nautical, beach house and coastal
We love to see movements towards making our homes feel like a retreat.
The lure of a beach is stronger than ever, so why not bring the beach to your bedroom? The nautical style is timeless and will feel ever more appreciated right now. Distressed wooden furniture is a must, along with a colour palette of seafoam blue, off-white and pops of sunny yellow.
Check out our wooden bed frames as a starting point for building your beach house bedroom.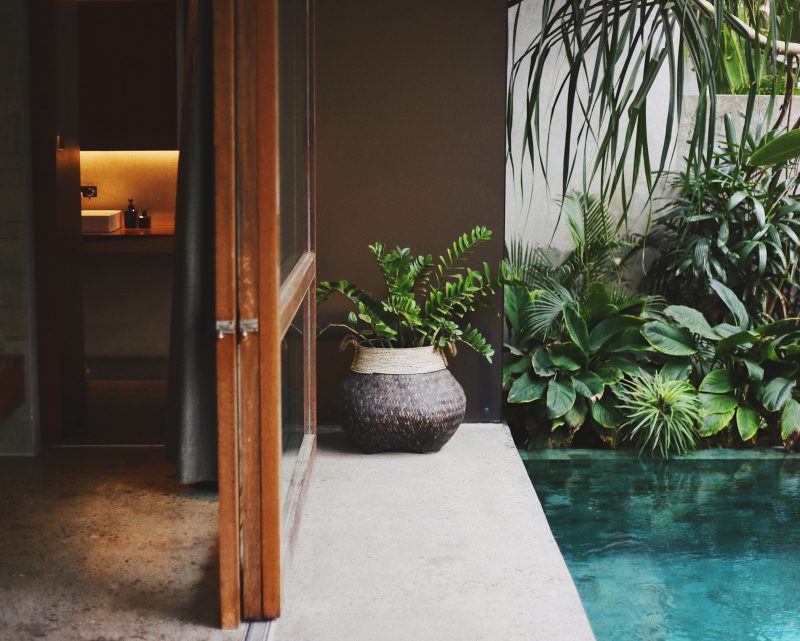 5. Zen
The Millennials and Gen-Z love health and spirituality, so this is the year that Zen interiors start making their way into our master bedrooms – especially now everyone is a master of home yoga and has dabbled in a little mindfulness. A Zen bedroom promotes peace and relaxation. It's the belief that your bedroom should be an indulgent oasis where you love to spend time and escape from the stresses of the outside world.
Zen interiors incorporate ancient Chinese teachings of holistic health benefits from natural elements. This includes wood, earth, fire, metal and water, so bear these in mind when designing your Zen master bedroom. Perhaps opt for a metal bed or wooden bed frame, for starters.
In terms of colour, a Zen bedroom should be neutral with minimal pops of bright shades – think a throw on the end of the bed, a piece of abstract art hung on the wall or an embroidered pendant lampshade. To help keep things minimal and distractions at bay, we suggest investing in some handy storage furniture or a storage bed frame to help you keep everything out of sight, leaving you with a space that's purely for relaxation, sleep and spending time with your partner.
When deciding on the layout of your Zen bedroom, consider following some simple Feng Shui bedroom tips to help create a good flow of positive energy. Instructions include placing your bed centrally in the room with matching bedside chests on either side.
There are two micro-trends within Zen bedroom design, check them out below for further inspiration:
– Hygge
This is a Danish concept that's also associated with peace and relaxation. Pronounced as 'hue-gah' this bedroom trend focuses on creating a cosy ambience, being present and switching off from the outside world. Read how to create a hygge bedroom here.
– Scandi
Another design trend with a focus on simplicity, Scandi bedrooms are all about contrast colours in neutral shades, such as grey and cream, black and white, etc. Scandi bedroom furniture is synonymous with slim raised legs and feet, too. This allows light to pour under your furniture creating a feeling of spaciousness and cleanliness. Check out our Scandi bedroom ideas for tips on how to bring this sleek trend into your room.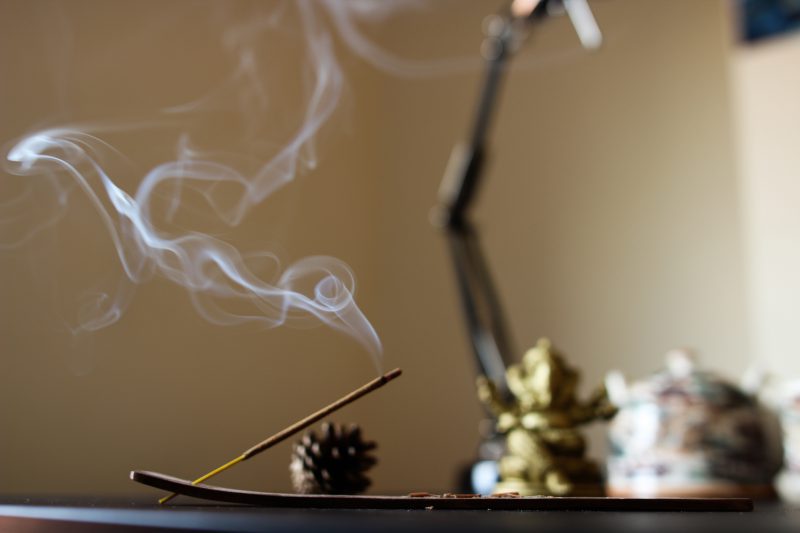 6. Middle eastern
Many people have started to bring exotic and getaway elements into their homes and bedrooms for a touch of unique flair and the feeling of making a staycation.
Middle eastern / Moroccan bedroom décor is flamboyant and luxe, full of colour, pattern and embellishment. Although it's bright and colourful, this design is oh-so inviting and elegant. It's sure to have you feeling like you're somewhere exotic.
Style elements include dark wooden furniture with intricate engraving, embroidered and tasselled cushions, patterned throws and statement pendant lighting. Colours like saffron yellow, blood orange and magenta are all ticks in the Moroccan vibe boxes. Feel content while basking in your homemade mirage and remember to practise being present. Ohmmm…
7. Bright monochromatic
This design idea involves bold hues such as cobalt blue, forest green and ochre yellow. Pick one daring colour instead of an assorted colour scheme and use your chosen shade throughout your bedroom, whether this is with accessories such as vases, pillows or curtains, or by simply painting all of the walls this shade.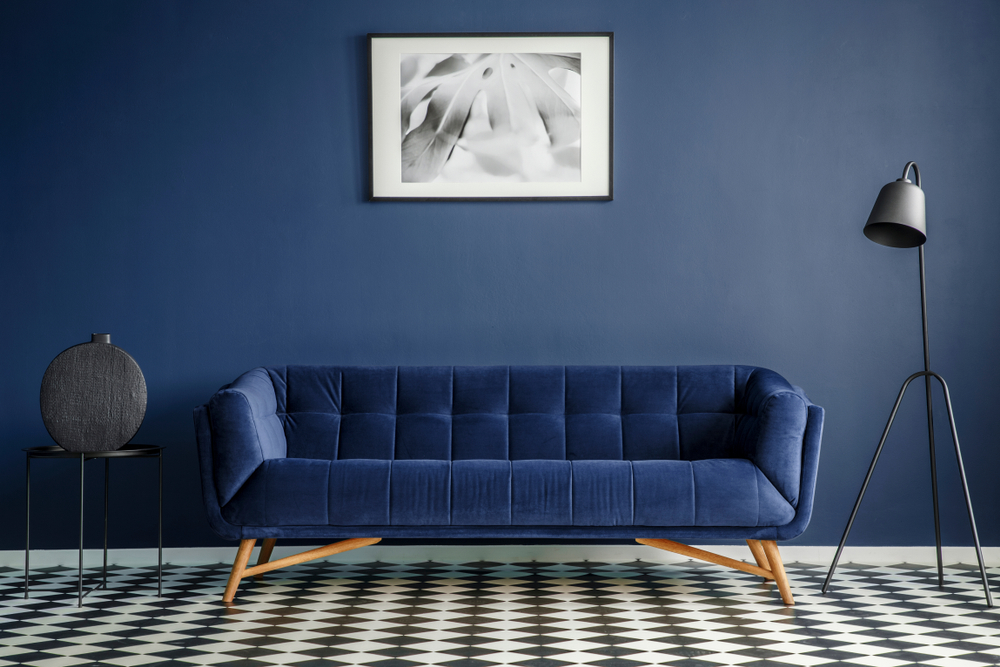 8. Japandi
Japanese design has often been a firm favourite amongst interior designers. Japandi is a combination of Japanese and Scandinavian styles, creating a look that is both minimalist and impactful. Think minimal clutter, clean lines and neutral colours. In terms of materials, mix pale Scandi woods such as beech with more modern Japanese-inspired woods, such as black bed frames or dark oak wardrobes.
Read more – Japandi bedroom design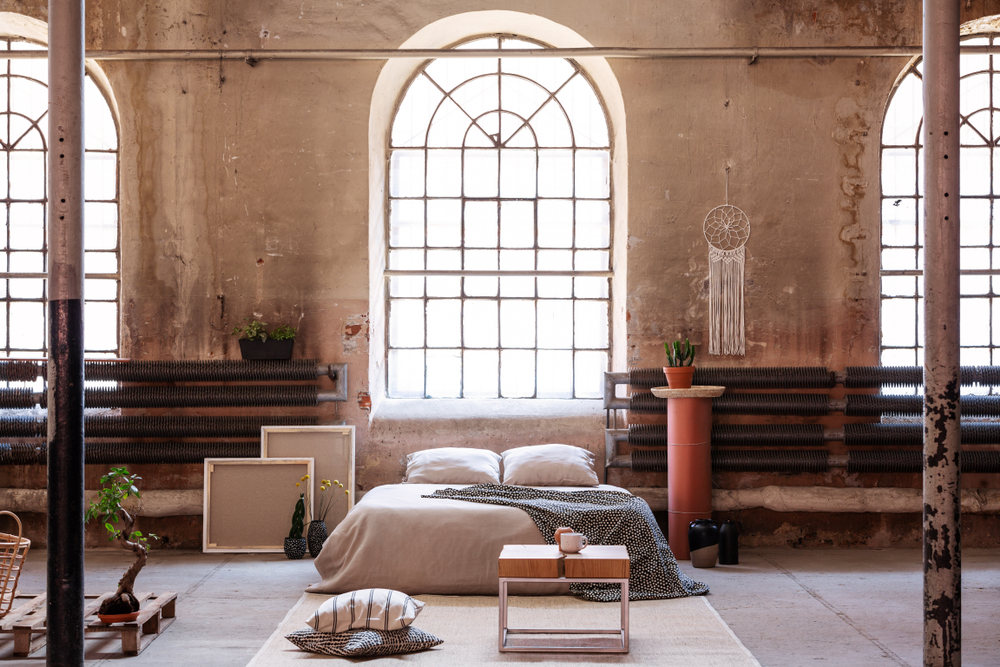 9. Eco-friendly design
As well as bringing plants into your rooms, nature is now prioritised in bedroom design by the use of sustainable materials and recycled accessories. For example, hunt out materials such as reclaimed wood in bedside tables, organic blankets or upcycled rugs. Other ways to make your bedroom sustainable include using paint with low VOC (Volatile Organic Compounds), using essential oils instead of aerosols and using LED lighting instead of traditional bulbs.
Read more – Eco-friendly bedroom design
10. Combining old and new
While interior design has often been seen as traditional vs contemporary, this design idea sees the mishmash of both. Bring this into the bedroom by incorporating new furnishings or sleek surfaces with your favourite things that you've collected over the years, think of souvenirs from holidays, vintage or art deco furniture such as a metal bed, or ornate clocks to create a sense of nostalgia.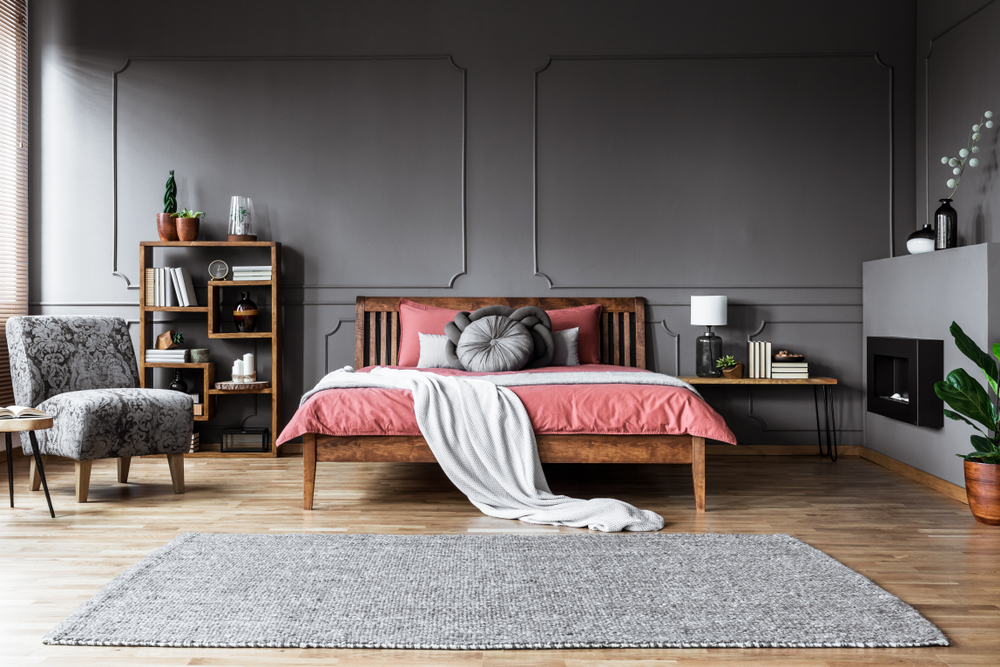 11. Home comforts
Your master bedroom design doesn't have to be exclusively aesthetic. Add some practicality and warmth to your bedroom by layering cushions, throws and blankets to create a personal sanctuary. Incorporate soft fabrics with upholstered headboards or bedside tables or consider a plush carpet if you're redecorating. Combining colours and fabrics, such as thick knits, velvet or comfortable cotton, depending on the season, can create a homely room with character.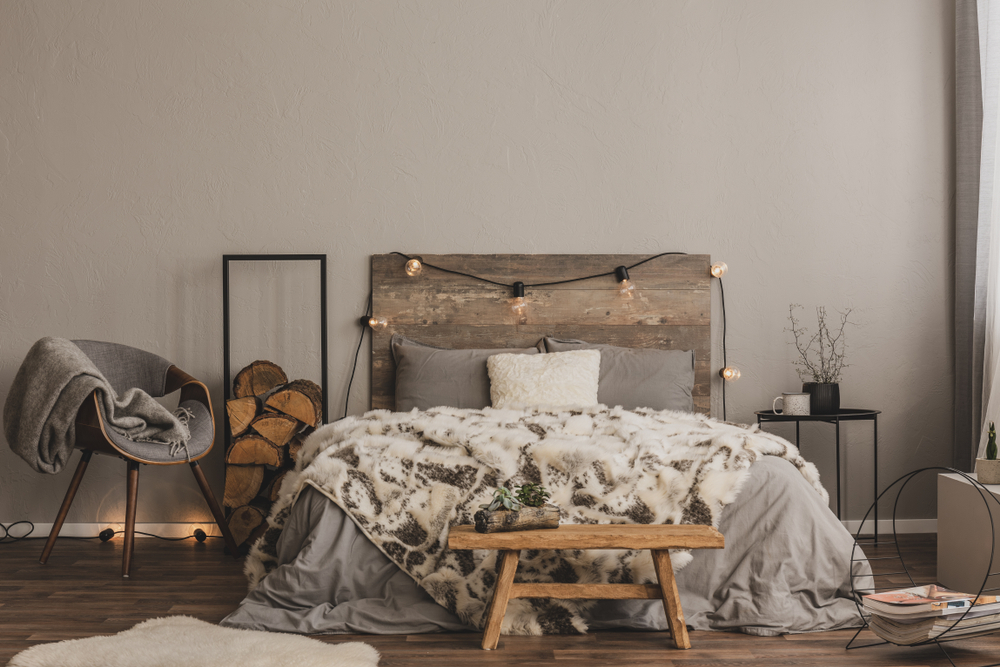 12. Earthy colour schemes
Creating spaces to improve mental health is at the forefront of bedroom design trends, this can be done by bringing in plants, stocking up on home comforts and using soft comforting colours. We are leaving behind pale colours or black-and-white spaces in favour of warm and welcoming colours.
Colour schemes such as browns, reds and greens on bedding, wallpaper or curtains can create an inviting and rustic feel. Interior designer Marika Meyer of Meyer Interiors says:
"Say goodbye to the cool tones that have ruled for so many years. Shades of chocolate brown, wine, olive green, and yellow ochre are all taking over in homes. We love substituting these warm, natural colours for a neutral on the sofa or walls."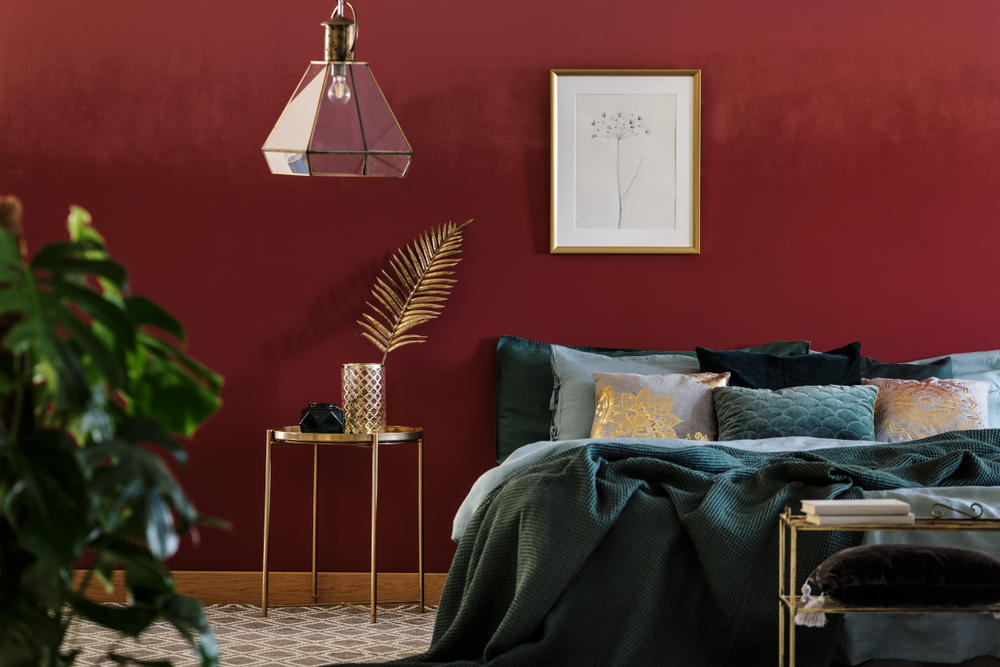 13. High-tech bedrooms
We really love bedroom designs that are starting to look to the future and focus more on practicality and convenience for the individual. The introduction of voice-activated lightbulbs, sunlight alarm clocks and tv beds are all aimed at making day-to-day life a little bit easier. Bring the future into your bedroom with mood lighting that can constantly change the look of your bedroom or a futuristic fan to help keep you cool.
14. Wicker furniture
Finally, in tone with the use of an earthy colour palette and natural materials, wicker or rattan furniture is seeing a big comeback this year. Incorporate this with quirky bedside tables or even in your bedroom lighting. Alternatively, wicker storage baskets help add practicality while implementing this design trend.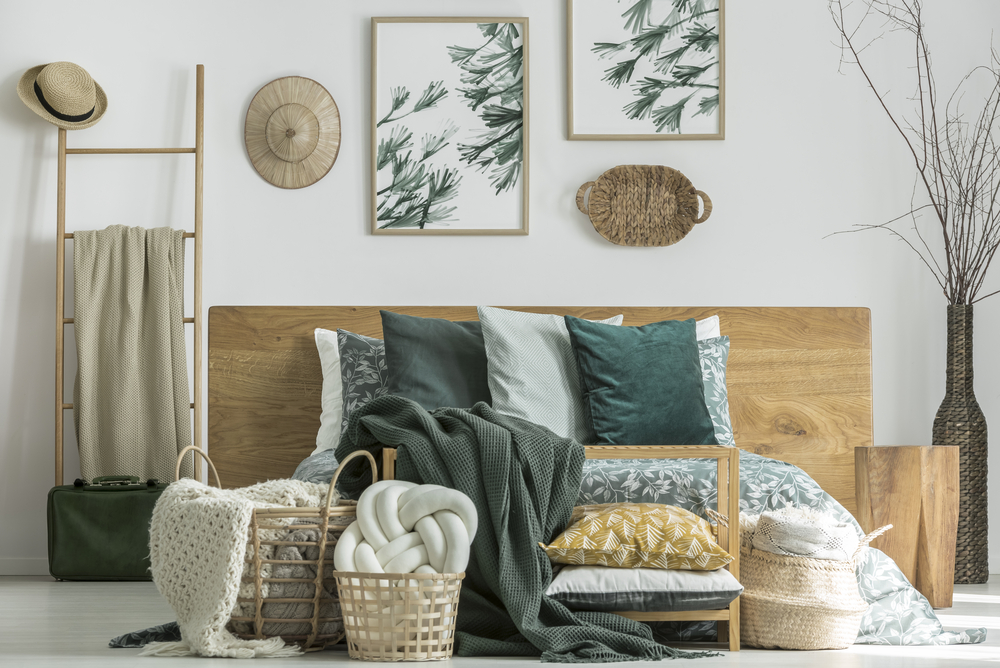 So that's some of our favourite bedroom design ideas; we hope you felt inspired. Need more? Check out our stylish range of bed frames and the latest bedroom trends for 2023.
More from the Sleep Matters Club