Peppa Pig Toddler Bed Frame with Storage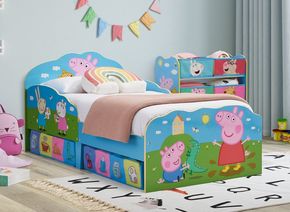 Overview
Why choose this bed frame?
Super cute Peppa Pig illustrations
Keeps your child safe with protective side panels
Zip locked under-bed storage
Suitable for girls and boys aged 18 months to four years
Suitable with a toddler sized mattress
Rest easy with a 1-year guarantee
Whose child doesn't love Peppa Pig? This colourful Peppa Pig toddler bed is ideal for very young children. The bed frame is the perfect size to help with the transition from cot to cot bed, helping your child move up to the next stage of bedtime development. What better way for a Peppa Pig fan to embrace bed time than with a Peppa Pig bed?
The bed is securely constructed with smooth round edges and decorated painted finish. The upper section has raised side panels for a secure safe night's sleep.
It's not just a whole lot of fun, it's space saving too! Under the bed are two storage drawers - ideal for toys or storing away bedding or clothes.
Please note:
This toddler bed requires a toddler mattress with the following measurements: (L) 140cm x (W) 70cm. The bed is suitable for ages 18 months to four years, so it will last just as long as any other cot bed. See our range of toddler mattresses here.
What are the safety features?
You'll find this bed is low enough for your child to comfortably get in and out of on their own, meaning you can rest easy knowing they won't hurt themselves trying to climb up or step down. There are also panels on either side to stop your child rolling out while they sleep. This safety feature is both practical and comforting, with little ones feeling secure in a bed that has small sides, giving a similar feel to their cot.
The edges, header and footboard of the bed all have rounded edges, so you won't have to worry about your child getting scratched on any sharp corners. The wood is also polished for a smooth finish all over, ensuring there'll be no splinters, cracks or bumps in the wood.
Peppa Pig bed design
Sturdy and ideal for toddlers, this bed has a beautiful Peppa Pig mural around the sides and headboard featuring Peppa, George and friends. The bright background in green and blue make for a gorgeous unisex design.
The bed also has storage drawers which slot underneath the bed and can store anything from spare bedding or bedtime stories to toys and teddies. These are made from fabric, so don't have sharp edges or corners and can be folded away or moved to a different area in the room if not in use under the bed.
Assembly details:
Please download instructions here
SKU: 202-00026
Delivery
Comes in 1 packages
Package 1:
Measures:
142 x 77 x 63cm