How to choose a sofa bed
Last updated: October 2023
The different types of sofa beds
Sofa bed mechanisms
Sofa beds offer a variety of frame mechanisms. Some can seem a little complex, so we've broken it down. Here, we explore how the different mechanisms respond when turning the sofa into a bed. Because some lean back and/or pull forward, you need to choose the right mechanism to ensure your sofa bed is suited to the intended space in your home – i.e. not all sofa beds are suitable for use up against a wall.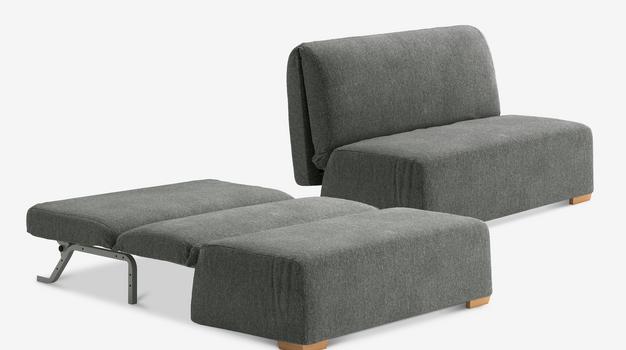 A-frame
The A-frame mechanism is one of the easiest ways to turn a sofa into a bed. It works by pulling out at the front, with the sofa back folding out to create the bed and mattress surface.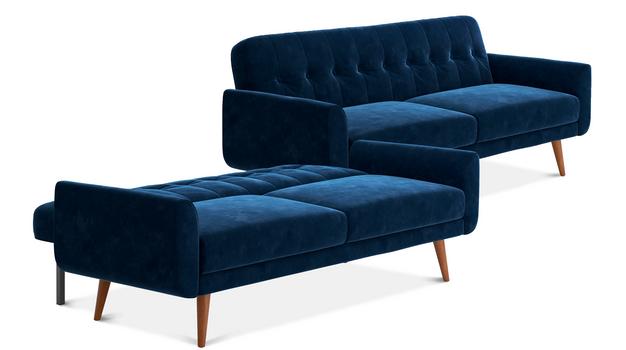 Clic-clac
With clic-clac frames, simply drop the back all the way down to make a bed or create a recliner position by dropping it back only slightly – it even makes a 'clic clac' noise as you move it. If you place this type of sofa bed against a wall, you'll need to move the sofa bed to make space when turning it into a bed. And remember, clic-clac sofa beds often come with extra storage features – win-win.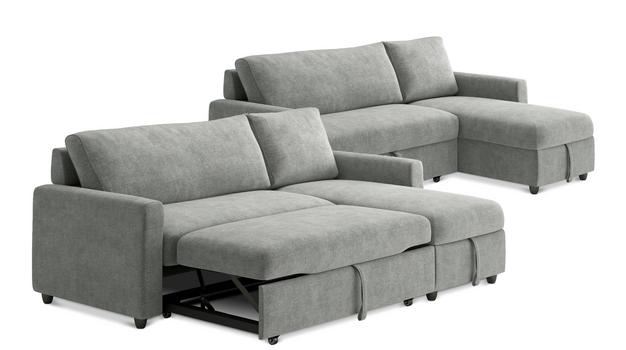 Pull out and lift up
With this mechanism, the bed is pulled out from the front of the sofa, with the bed lifting from the base. It's different to an A-frame, as the back of the sofa remains in place. This makes them ideal for placing against a wall or in an alcove.
View all pull-out sofa beds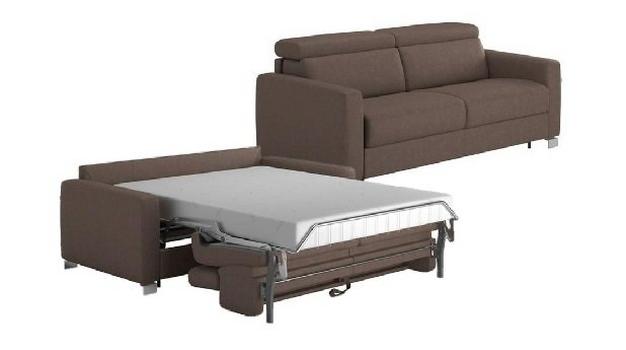 3-fold and roll out
With this sofa mechanism, the mattress folds out from underneath the cushions in one action to provide a quick sleeping area with great comfort. Your guests get to enjoy the comfort of a mattress, making it one of our premium sofa bed options.
The practicalities of buying a sofa bed
When buying a sofa bed there are some things you should consider. We recommend you contemplate the type of mechanism you prefer by trying them out in one of our stores. Your choice should also be based on both the size of the room and what's convenient for you. A sofa bed should be great for entertaining and unwinding, but also offer a quick and comfortable sleeping space for guests. Perhaps offer a smart storage solution too?
How to measure for a sofa bed
To ensure your sofa bed fits, we suggest you measure the length, width and height of where the sofa will be positioned in your room. Make sure you consider any window heights and the measurements of doors or structures you'll have to get the sofa bed through. You should also consider extra space for other furniture items such as side tables. After all, you'll want your guests to be able to walk around freely without large pieces of furniture getting in their way. Read more in our guide to measuring for new furniture.
Are sofa beds less comfortable to sit on?
The average size of British homes is shrinking, meaning it's more common for guests to stay in living rooms than spare bedrooms. Naturally, this means you'll want to find a sofa bed that's comfortable for both sleep and everyday use. We ensure optimum comfort is always considered when developing our sofa beds by blending mattress technology with industry-standard techniques for sofa comfort. What's more, you can also get storage included. Everyone has different requirements, so that's why we have a wide range for you to make sure you find the most suitable sofa bed.
How to choose a sofa bed for a comfortable sleep
Foam-filled cushions offer a firmer level of support which can sometimes be beneficial for those who suffer from backache. Some of our sofa beds come with a choice of mattress such as foam or pocket sprung – these offer pressure-relieving qualities for a great night's sleep. If you're looking for style advice, check out our guide to 5 of the best sofa beds.
Sofa bed care and maintenance
Over time, sofa beds and chairs can show signs of wear and tear. To keep your loved items feeling and looking new, we recommend good protection and maintenance. Caring for your sofa bed will help to extend its life, keeping it comfortable for longer. We have some suggestions that'll allow you to make full use of your sofa bed, while maintaining good condition.
How to care for your sofa bed
Here, we'll give some general tips but for complete advice, check out our post on how to care for your sofa bed.
Arm caps can be an ideal solution to keep your sofa lasting longer. Similarly, you can grab some scatter cushions and create a comforting and stylish feel with ease, while also offering that extra layer of protection.
Remember to regularly plump the back cushions as this will help them to keep their shape. If you happen to stain your sofa bed, don't worry. Start by mopping up any excess liquids with a dry and clean cloth, then gently clean the area with a warm damp cloth. However, always check the label on your sofa bed before using any cleaning products as some can damage the material. Over time, fabric colours can fade if placed in direct sunlight. Try to reposition your sofa bed every few months to avoid this.
How to move a sofa bed
Lifting or moving a sofa bed can be dangerous if not done correctly. Be sure to follow safety instructions for lifting. The NHS give good advice on lifting heavy items. If you're moving the sofa bed away from a wall, your best bet is to use floor protectors beneath the legs and slide it. If your sofa bed is on a floor that could tear or bunch, such as carpet or vinyl, you'll need to lift it slightly. If you're moving a sofa bed from one room to another, we recommend using a dolly.