Kinder Bunk Bed Light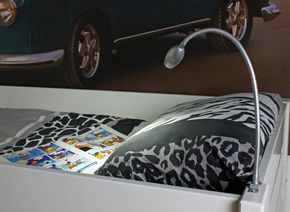 Overview
Why choose this light?
Highly versatile bedside light
Perfect for kids or adults
Suited for any bunk, mid sleeper, or for wall mounting
Rest easy with our 1-year guarantee
If you're looking for a versatile bedside light, the Kinder bunk reading light is ideal for any bunk bed, mid sleeper, or even for wall mounting.
This Kinder light can flex, bend and twist to suit your night time reading needs. It's perfect for kids or adults and is convenient and compact. The light can be attached to many surfaces including walls, making it versatile and easy to install. It's ideal for desks and craft tables too.
The light is 40 degrees high from base and the cable is 180cm long. It'll offer you around 50,000 hours of life from its 2w low energy LED bulb which is included. Fix to any wooden surface (2x screws provided) 5V mains or USB powered and child safe. It's suitable for wooden daybeds, mid sleepers, bunk beds and high sleepers.
SKU: 020-00273
Delivery
Comes in 1 packages
Package 1:
Measures:
42 x 42 x 8cm