Flaxby Nature's Finest 8150 DNAir Mattress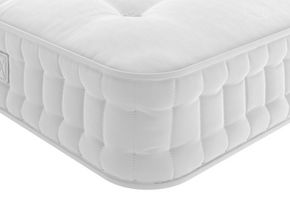 Select a size
2'6 Small single

3'0 Single

4'0 Small double

4'6 Double

5'0 King

6'0 Super king
Select a comfort grade
Medium

Firm

Split Medium & Firm
Overview
Specifications:
Has a medium or firm comfort grade
Features a 100% recyclable Cortec pocket unit
It has a luxurious, natural and chemical free sleeping surface
Traditionally hand tufted for secure alignment
Two rows of side stitching offer superior edge support
Handmade in the UK by Harrison Spinks
Comes with our 40-Night Sleep Guarantee
Rest easy with a 5-year guarantee
Our Natures Finest 8150 mattress uses durable Egyptian cotton to help keep you fresh and cool during the night. This material wicks potential moisture away from your body giving you extra comfort. You'll also get a superior and more luxurious feel as Egyptian cotton has longer and finer strands than ordinary cotton.
This mattress also includes layers of wool and mohair sourced from farms in and around Yorkshire. Using wool gives the mattress a soft, springy and naturally supportive feel whilst also possessing anti-bacterial properties. Mohair has a slightly softer and smoother texture than wool but still provides great strength with a more luxurious and silky feel.
A dual-sided mattress designed to keep you warm in winter and cool in summer – all you have to do is turn the mattress according to the season. The warm side of the mattress features a warming, wool blend closer to the sleep surface to help keep you warm during the colder months. Turn the mattress with the changing of the seasons so that a cotton blend is close to the sleep surface in the summer months, helping to keep you dry and cool.
Relax in enhanced comfort with the Natures Finest 8150 innovative Cortec pocket springs, and experience your most comfortable and supported sleep yet. The Cortec and DNA spring combination allows a stronger airflow towards the surface of the mattress, so your sleep will be well ventilated and temperature regulated. Each pocket spring moves independently meaning greater weight distribution and relief from pressure points that are known to cause sleep disturbances.
Additional features
The mattress is covered with a luxury wool blend damask cover to make your mattress durable and prevent wear away. It also makes for a highly comfortable sleep due to its absorbent and temperature regulating qualities. Eight handles make this mattress easy to rotate when needed. Made with care in the UK, this mattress is traditionally hand tufted and has two rows of hand side stitching for superior edge support.
Additional information:
This mattress is glue & chemical free as well as being 100% recyclable.
This mattress is compatible with our Sleepmotion adjustable bed frames.
For your peace of mind, our Bedcover Service Plan lets you rest easy about the looks, comfort and performance of your new mattress, bed or furniture with cover of up to 8 years.
SKU: 135-01179
Delivery
Comes in 1 packages
Package 1:
Weight:
49 kgs
FAQ
Should I rotate my mattress?
From the point of purchase, we recommend that you rotate your mattress regularly. Rotate head to toe weekly for the first three months and then every month thereafter.
Can you take away my old mattress?
Yes, we've developed a service that's fast, convenient, and environmentally friendly. Our team will pick up your old bed frame or mattress while they deliver your new one. We'll then recycle your item at our own specialist bed and mattress recycling centre.
You can purchase this service at the checkout. Prices vary depending on the item you need removing, these can be found here.
Can this mattress be turned/is this mattress double-sided?
Several of our mattresses are 'double sided' which means that both sides of the mattress are suitable for sleeping on - this feature will be highlighted in the product description.
If your mattress is double sided, we suggest turning your mattress with the same frequency as rotating - so weekly for the first three months and then every month thereafter.
What guarantee does this mattress come with?
All our mattresses come with a specific guarantee period - this ranges from 1 year to 10 years and will depend on the brand. You can find the guarantee for each mattress listed in the product description on our website.
How many springs does this mattress have?
The spring count for this mattress can be viewed in the product specifications in the overview section.
What is the maximum weight for this mattress?
Our mattresses have been designed to accommodate a variety of different sleepers - therefore we do not specify weight limits for any of our mattresses. If you are concerned about the support that a mattress will be able to offer you, we would suggest visiting your local store to discuss your requirements with our team who will help you find the most suitable mattress.
What type of base can this mattress be used on?
Most of our mattresses are compatible with all of our bases and bed frames. The product description will state if it is compatible with our Sleepmotion or adjustable bed frames. Please note that if you are choosing a mattress for the top bunk of a child's bed frame, it must be 15cm or less in depth.
Can I use an electric blanket with this mattress?
Electric blankets can be used with all our mattresses however we do not recommend that they are placed directly on the mattress surface. In addition, using an electric blanket may alter the comfort grade of the mattress depending on the mattress type.
We also recommend following all guidelines and instructions specified by the manufacturer of your electric blanket.
What does it mean if your new mattress is dipping?
All new mattresses are designed to settle/dip slightly in the areas that you sleep the most. We measure our mattress depths from the top edge to the bottom. Because they're handmade, the depths can vary slightly throughout - especially towards the middle. This is where the luxurious and supportive fillings are more prominent. The layers and fillings are simply responding to pressure point areas and providing support where you need it. While a little settlement is no cause for concern, there are ways you can minimize any further dipping:
Allow your mattress to air out daily by leaving the covers pulled back for a while after you get up. This encourages any moisture to disperse and allows the fillings and layers to rise back up.
Make sure you follow the recommended rotate and/or turn instructions as labelled on your mattress. Regular rotating and/or turning encourages the fillings to level out.