Ottoman bed buying guide
Last updated: October 2023
Ottoman bed bases
We offer a range of ottoman bed frames, which includes two types of bases: a solid base or slatted base. Since ottoman beds are designed to lift the weight of a mattress, both base options are sturdy and capable of supporting you while you sleep, but there are some benefits to each choice.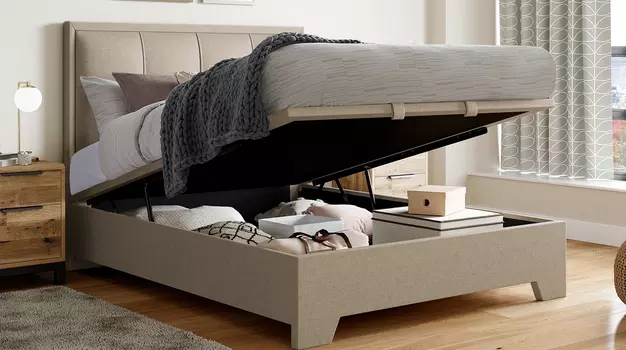 Solid bases
Also called platform beds, solid bases provide a sturdy, flat surface to place your mattress on and are similar to a divan bed base. They provide all-over support and a firmer feel, so consider the firmness of your mattress when looking to pair it with a platform base.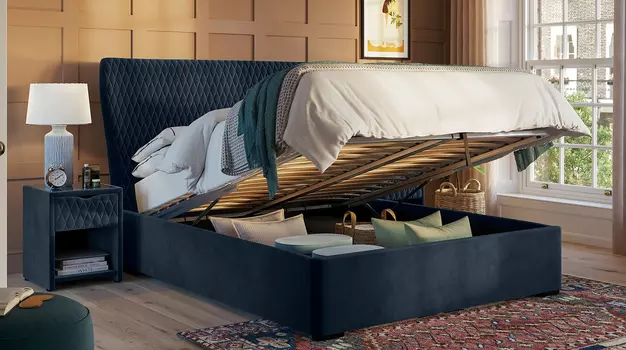 Sprung slats
Our ottoman beds have sprung slats that are usually made of pine timbers and are curved in an arched shape to offer better shock absorption. This provides a slightly less firm feel beneath your mattress and the gaps also aid with airflow which helps to keep you cool.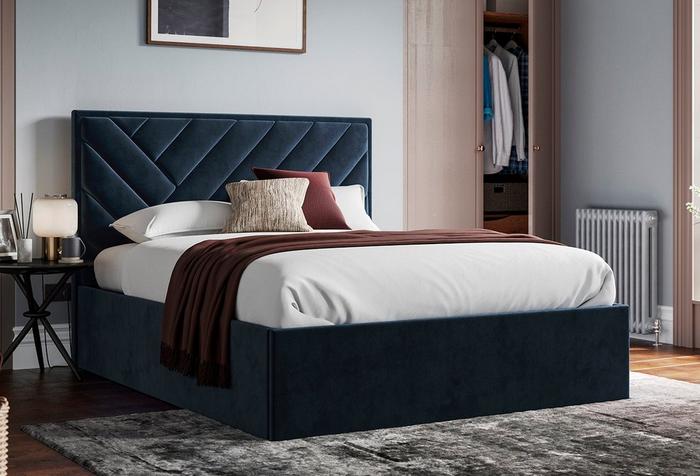 Ottoman bed storage
One of the best things about the storage space in an ottoman bed is the fact you're able to make use of the whole size of the frame itself. Most of our ottoman frames have a solid base where you can store boxes and other hard items, but if you're looking to store soft things like bedding and spare pillows, a shadow ottoman may be a good choice.
If you're looking to save space in a child's bedroom, make the most of your own bedroom, or even a box room, Dreams has a huge range of beds to suit you.
More about Storage beds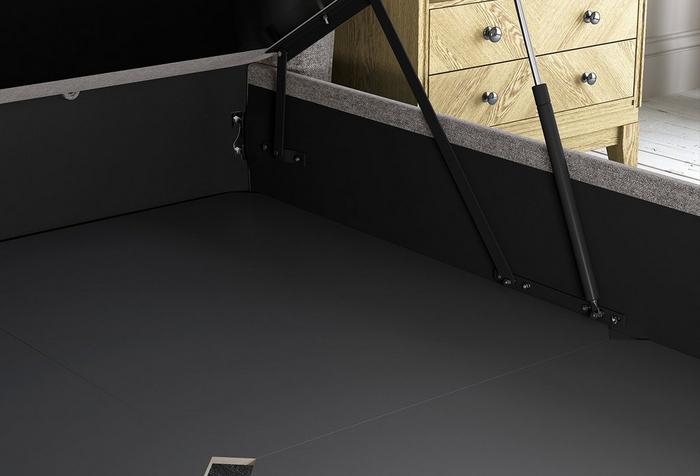 Baseboards vs fabric
Most of our ottoman bed bases come with a boarded base, which means that the storage boxes below the bed are solid. This is the preferred design choice for many people, as the baseboards are sturdier and can hold heavier items or boxes. If you're looking to only store soft items like clothes or bedding, then you might be interested in a shadow ottoman.
Shadow ottoman frames are lifted from the ground by legs and feature a fabric pouch that's great for stuffing in things like spare duvets. Once the ottoman is closed, the dark fabric blends in seamlessly like a shadow creating the illusion that beneath the bed is actually clear. These are perfect for those who prefer the look of wooden bed frames but need the functionality of a storage bed. For more information on their space saving benefits check out our shadow ottoman upholstered beds made in collaboration with House Beautiful.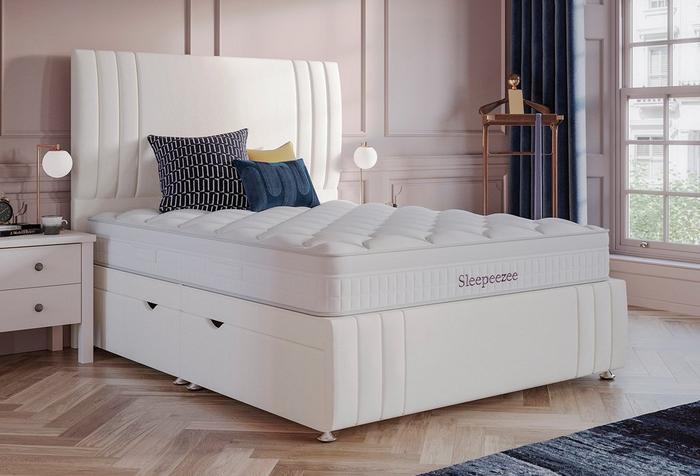 Do ottoman beds have matching headboards?
Most of our ottoman frames come with in-built headboards but some of our divan-style ottomans require a headboard to be bought separately – if that's what you'd like. Looking to make a statement with your headboard? Take a look at this article about our head-turning headboards.
How do you access the storage in an ottoman bed?
Many people have worries about how easy it is to access the storage space underneath an ottoman bed. Thankfully, it's much easier than some might imagine. These beds are designed with daily use in mind, so even if you store items you use regularly in them, it doesn't take much effort to retrieve them.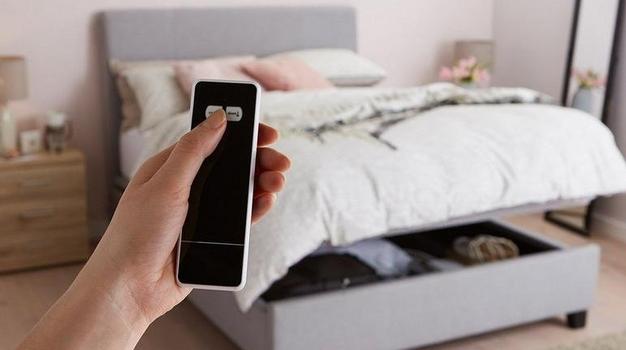 Electric
Some ottoman designs, such as the Francesca, offer an electric opening which is a great option for elderly or disabled users as you don't have to worry about it being too heavy.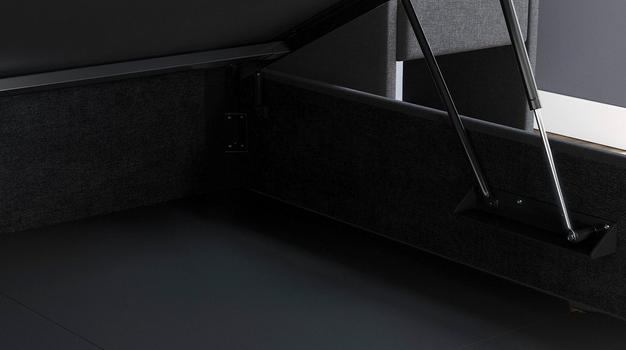 Gas pistons
Similar to a car bonnet, some ottoman bases use gas pistons and struts to help lift the bed. A gas piston uses the pressure of trapped gas in the rods to do most of the heavy lifting once you have started to pull the bed up.
It's important to check the weight capacity on a gas piston ottoman bed to ensure that it's strong enough to lift the weight of your mattress.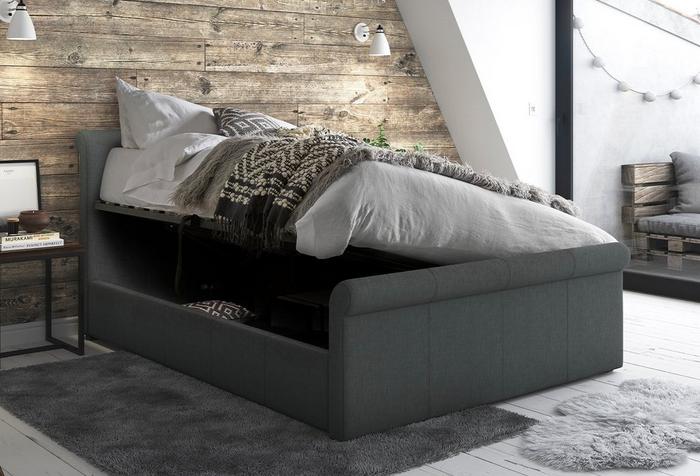 How do ottoman beds work?
Our ottomans lift/rise from either the side of the frame or the foot end. When assembling your side-opening ottoman you can choose which side you'd like it to lift from. Bear in mind how much space you have around the bed though and how high your ceiling is. A low or slanted ceiling or a very narrow room most likely won't work with a side-opening ottoman.
Are ottoman beds safe?
To ensure the safety of an ottoman bed when opening and closing, gas struts are used to prevent the top of the bed from coming down or flying up too fast. This system also enables safe access to the storage compartments. However, we do recommend that ottoman beds are not used by young children but they can work as a kids' storage bed for teens. Read more about our kids' storage bed options.
To keep your mattress in place the ottoman base often has a non-slip top if it's not sprung slatted. You'll never need to worry about the weight of the mattress as the struts do all the heavy lifting for you. For side-opening beds, the mattress will stay in place when you open it as one side of the frame tends to be slightly higher than the other.
How easy are ottoman beds to assemble?
All our ottoman beds come with build instructions and typically require two people to assemble them. They're delivered in separate boxes and the number varies depending on which bed frame you go for. The weight of these boxes is also included in the delivery information, so you can check this before you purchase your ottoman bed frame.
Assembling an ottoman bed is easy to do and includes screwing together the bed frame, attaching the headboard, and then installing the lifting mechanism. To make things easier for you, or if you need help, our skilled delivery teams can assemble your ottoman for you (a small fee applies).