How to care for your sofa bed
Last updated: September 2023
How long does a sofa bed last?
With the right day-to-day care, your sofa bed will be easy to maintain and keep looking pristine. There's no exact rule on how long a sofa should bed should last. That's because it depends on how often they're used and what their main purpose is – sofa or bed. Most important is to ensure you give yours the correct care – from vacuuming to cleaning stains. We'll explore all of this right here.
But first, it's important to note that sofa beds at Dreams come with a 1-year guarantee. However, for extra peace of mind you can purchase our Bedcover insurance plan which protects materials, construction and workmanship for 5 years. Accidental scuffs, spills and stains are also covered for the first 5 years. Find out more about Bedcover here.
How to clean a sofa bed
If you've purchased Bedcover on your sofa bed, cleaning is available by a professional when any accidental spillages occur. If you haven't chosen to add on our Bedcover plan, regular cleaning of your sofa bed will keep it looking presentable in your home and for when guests come to stay. Follow these simple steps to clean your sofa bed:
Remove any machine washable covers and follow the instructions on the care label.
Vacuum surfaces but avoid vacuuming the mattress, if your sofa bed has one, as this could disturb the fillings.
Soak up any spilt liquids immediately by blotting them with a clean, dry cloth. Remove any debris with a clean, soft brush. We don't recommend using any cleaning products on your sofa bed's upholstery.
How often should you clean sofa bed?
We've grouped our cleaning and maintenance care tips into daily and weekly instructions.
Daily
We recommend plumping your sofa bed's cushions daily to help them keep their original shape
Try to keep your upholstered sofa bed away from direct sunlight as prolonged exposure could cause the colour to fade over time
Treat any spillages on the same day – preferably immediately
Weekly
Vacuum once a week on and behind the cushions on a low setting
Use a soft brush to remove any dust or debris from the mattress, if your sofa bed has one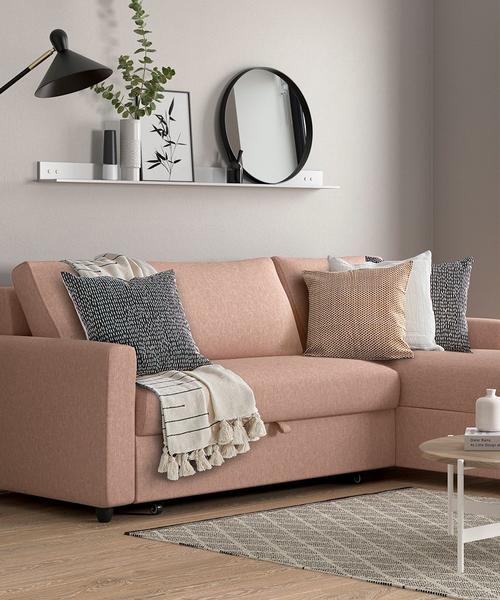 How to protect your sofa bed
A soft throw is not only great for snuggling up with on your sofa bed, it also acts as an inexpensive shield from stains and odours, plus general wear and tear. Large scatter cushions are also another way of protecting your sofa bed, and they provide a pleasing aesthetic too – you can change them up as often as you like to give the sofa bed a new lease of life.
For sofa beds with a mattress, purchasing a mattress protector will help shield against stains and moisture.
More tips for keeping your sofa bed in great condition
Try to keep children from jumping on your sofa bed as it could damage the fillings and layers
Try to keep pets off your sofa bed. Fur and sharp nails are not a good mix with upholstery
Avoid sitting on the arms as this type of extra weight could damage the frame
Try not to place your sofa bed directly in front of a radiator, open fire, or air conditioning unit – allow some space for air to circulate freely
Don't use your sofa bed as a substitute for a full-time bed frame – our sofa beds are designed for occasional use
Check if your sofa bed comes with a support leg underneath the sleeping area. This will need to be pulled down before the bed is slept on.
We hope you find this sofa bed care guide useful. Check out more of our handy guides below.