Tinsley Mid Sleeper Bed Frame with Storage & Drawers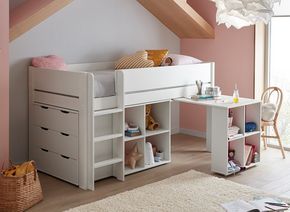 Overview
Why choose this mid sleeper?
Painted wood
Double-sided blue or pink panels
Comes with solid slats
Maximum mattress depth is 15cm
Its ladder can be built to the left or the right
Recommended age: 6+
Rest easy with our 1-year guarantee
If you're looking to save space, this Tinsley mid sleeper is a great way to make the most out of your kids' bedroom. Compact and practical, this mid sleeper contains a pull-out desk, a storage cube and a chest of drawers – perfect to house clothes and books with the addition of a dedicated work station.
This white painted mid sleeper is great for all colour schemes and with interchangeable double-sided pink and blue panels, it allows you to choose your kids' preference, finishing off the bed beautifully with a touch of colour.
For safety reasons, this mid sleeper requires a mattress with a maximum height of 15cm. Please note this bed is suitable for a standard 3'0 single mattress.
Check out our Little Big Dreams range of kids mattresses, available with a 15cm depth suitable for mid sleepers, high sleepers, cabin and bunk beds. To learn about the best beds for your child take a look at How to choose between a high sleeper and mid sleeper and our Bunk bed safety guide.
Assembly details:
Instructions download: Midsleeper | Cube | Desk | Drawers
Additional information:
For your peace of mind, our Bedcover Service Plan lets you rest easy about the looks, comfort and performance of your new mattress, bed or furniture with cover of up to 8 years.
SKU: 423-00127
Delivery
Comes in 5 packages
Package 1:
Weight:
33 kgs
Measures:
17 x 45 x 90cm

Package 2:
Weight:
18 kgs
Measures:
5 x 74 x 105cm

Package 3:
Weight:
26 kgs
Measures:
15 x 26 x 208cm

Package 4:
Weight:
19 kgs
Measures:
7 x 25 x 200cm

Package 5:
Weight:
27 kgs
Measures:
12 x 45 x 90cm