Team GB Cooling Pillow Pair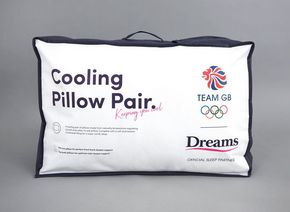 Overview
Why choose these pillows?
They have a 100% pure cotton and lyocell cooling cover
They're suitable for all sleeping positions
They naturally regulate your temperature
With resilient cluster ball filling
Their comfort grade is medium
They're machine washable at 40°C
Rest easy with our 1-year guarantee
Want a good night's sleep that's cool and comfy? These Team GB cooling pillows are made from naturally temperature regulating lyocell and cotton to aid airflow. They have a soft cluster ball filling for a super comfy sleep.
We recommend using one pillow if you're a front or back sleeper, both pillows if you're a side sleeper.
Additional information:
100% cotton and lyocell cover
100% cluster ball polyester filling
Includes 2 pillows.
SKU: 719-00258