Seoul Sleepmotion Adjustable TV Bed Frame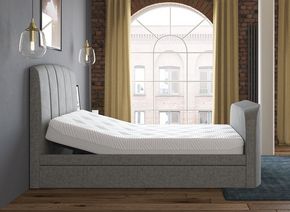 Select a TV type
32" Smart LED HD

43" Smart LED HD

43" Smart 4K
Would you like to upgrade to a 2.1 sound system?
Standard TV audio

2.1 sound system
Overview
Why choose this bed frame?
Comes with a 32" SMART TV
Wireless remote to control the TV lifting mechanism
Quilted headboard with stylish vertical panelling
Upholstered in smart grey fabric
Choose from an adjustable Sleepmotion 100i, 200i or 400i base
Upgrade to a 2.1 sound system
Rest easy with our 1-year guarantee
Why choose the 100i?
1 adjustable area for the back
You control it using a wired remote (included)
Weight limit: 300kg / 47 stone (including mattress weight)
Why choose the standard audio 32" SMART TV?
LG 32LM63 SMART TV
2 x HDMI ports
2 x USB input
1366 x 768 resolution
The TV comes with a 1-year manufacturer's warranty
Want an adjustable bed with a TV built in? Discover our stylish and tech-savvy Seoul TV Bed frame in smart grey fabric for a contemporary look. Hidden in its slim footboard there's a 32" SMART TV which you can lift and lower seamlessly using a remote control. You can also upgrade to a 43" Smart TV - select your options for more information.
Choose from three adjustable Sleepmotion bases to replace the slat options on the standard Seoul bed frame. Depending on whether you choose the 100i, 200i or 400i youâ;™ll enjoy adjustments for your back and feet, Zero Gravity technology, massage units and control via our app. (See details above.)
Assembly details:
2 people required for assembly
Please download instructions here
For help with assembling this bed, watch our Seoul assembly video.
Additional information:
The optional 2.1 sound system includes 2 x 5 Watt speakers, 1 x 10 Watt subwoofer and 2 x 4 inch silver speaker grilles. Bluetooth is version 5.1.
A mattress isnâ;™t included, so please choose from selected mattresses
Our Sleepmotion bases are designed for using with one mattress only. You canâ;™t use separate mattresses for independent movement.
The movement function on the 100i is designed to be used while awake - you canâ;™t sleep in the upright position. For the option to sleep while elevated, please upgrade to the 200i or 400i.
The 100i has a wired remote and can only be controlled via this. The 100i offers adjustment through the back support only and doesnâ;™t feature Zero Gravity technology.
Images are a visual representation. Itâ;™s normal to see a slight gap between the base and mattress when in use.
For your peace of mind, our Bedcover Service Plan lets you rest easy about the looks, comfort and performance of your new mattress, bed or furniture with cover of up to 8 years.
SKU: 251-00362
Delivery
Comes in 5 packages
Package 1:
Weight:
6 kgs
Measures:
7 x 44 x 94cm

Package 2:
Weight:
53 kgs
Measures:
17 x 97 x 140cm

Package 3:
Weight:
22 kgs
Measures:
14 x 36 x 198cm

Package 4:
Weight:
16 kgs
Measures:
13 x 135 x 153cm

Package 5:
Weight:
39 kgs
Measures:
21 x 151 x 88cm