Sealy Side Sleeper Pillow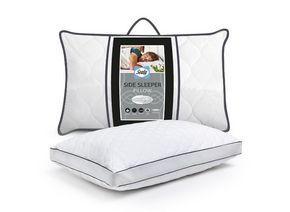 Overview
Why choose this pillow?
Features a luxury 233 thread count and 100% cotton cover
Its even support encourages the natural alignment of your spine
The perfect choice if you sleep on your side or back
Designed with cellular support centre which increases airflow
Made in the UK
Rest easy with a 2-year guarantee
It has a medium comfort grade
The Sealy Spinal Alignment pillow was developed to support the head and neck, so the spine maintains a straighter and natural horizontal line. This prevents muscle strain on the back of the neck and shoulders caused by an incorrect pillow.
This single pillow features a 5cm foam centre to encourage airflow and increase breathability through the night.
SKU: 719-00330
Delivery
Comes in 1 packages
Package 1:
Weight:
0.6 kgs
Measures:
15 x 71 x 45cm