Revived Side Sleeper Pillow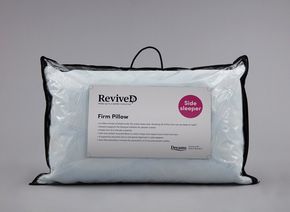 Overview
Why choose this pillow?
It's made with eco-friendly materials
Has a firm comfort grade
Features resilient fibres to support your head and neck
It's ideal for side sleepers
Made with 22 recycled plastic bottles
Machine washable at 40 degrees
The Revived Firm Side Sleeper Pillow is ideal if you're a side sleeper as it's designed to give you firm and balanced support by filling the space between your shoulder and ear - helping to prevent neck, shoulder and back pain during sleep.
You can sleep easy knowing your pillow is environmentally friendly, with 22 recycled plastic bottles used to create its supportive core.
Specification:
Cover is made from 25% SEAQUAL® YARN (see below), 31% recycled 2nd life materials and 44% coloured polyester.  The filling is recycled hollow fibre polyester.
Additional information:
Includes 1 x pillow.
Want to make a positive change to the environment? Learn more about our full Revived range of eco-friendly mattresses.
Dreams supports the SEAQUAL INITIATIVE which collaborates with NGOs, fishermen, researchers, scientists, authorities and private stakeholders to clean our oceans of marine litter. All the plastic waste is then sent to specialist centres where it is sorted and cleaned to be transformed from rubbish into plastic flakes. These plastic flakes are then made into pellets and finally SEAQUAL® YARN, which is used to create recycled textiles like our Revived pillow and mattress covers.
SKU: 719-00260
Delivery
Comes in 1 packages
Package 1:
Weight:
1.3 kgs
Measures:
24 x 60 x 40cm