Over The Moon Traditional Spring Mattress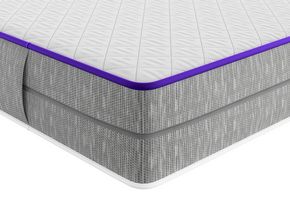 Select a size
3'0 Single

3'0 Euro single
Overview
Specifications:
It's breathable and heat regulating
With perspiration control
Water repellent so accidents are easy to wipe clean
Has protected and wipe clean inners for a hygienic sleeping environment
The cover is removable and washable at 40 degrees
Anti-allergy fabric to minimise irritation throughout the night
Hypoallergenic for increased protection against allergens
It has a medium comfort grade
PVC free
Suitable for approx. 5 years+
Rest easy with our 1-year guarantee
Help regulate your little one's body temperature with this breathable, heat regulating, traditional sprung mattress with perspiration control. Featuring 132 traditional springs it gives good support and is free of PVC, anti-allergy and hypoallergenic so it won't irritate your little one's skin.
This mattress is water repellent so it's easy to wipe clean to solve any night-time accidents and it has a removable and washable cover, to keep it fresh for its lifetime.
Additional information:
Double sided: Turn regularly and rotate head to toe weekly for the first three months, then every month thereafter.
SKU: 113-00516
FAQ
Should I rotate my mattress?
From the point of purchase, we recommend that you rotate your mattress regularly. Rotate head to toe weekly for the first three months and then every month thereafter.
Can you take away my old mattress?
Yes, we've developed a service that's fast, convenient, and environmentally friendly. Our team will pick up your old bed frame or mattress while they deliver your new one. We'll then recycle your item at our own specialist bed and mattress recycling centre.
You can purchase this service at the checkout. Prices vary depending on the item you need removing, these can be found here.
Can this mattress be turned/is this mattress double-sided?
Several of our mattresses are 'double sided' which means that both sides of the mattress are suitable for sleeping on - this feature will be highlighted in the product description.
If your mattress is double sided, we suggest turning your mattress with the same frequency as rotating - so weekly for the first three months and then every month thereafter.
What guarantee does this mattress come with?
All our mattresses come with a specific guarantee period - this ranges from 1 year to 10 years and will depend on the brand. You can find the guarantee for each mattress listed in the product description on our website.
How many springs does this mattress have?
The spring count for this mattress can be viewed in the product specifications in the overview section.
What is the maximum weight for this mattress?
Our mattresses have been designed to accommodate a variety of different sleepers - therefore we do not specify weight limits for any of our mattresses. If you are concerned about the support that a mattress will be able to offer you, we would suggest visiting your local store to discuss your requirements with our team who will help you find the most suitable mattress.
What type of base can this mattress be used on?
Most of our mattresses are compatible with all of our bases and bed frames. The product description will state if it is compatible with our Sleepmotion or adjustable bed frames. Please note that if you are choosing a mattress for the top bunk of a child's bed frame, it must be 15cm or less in depth.
Can I use an electric blanket with this mattress?
Electric blankets can be used with all our mattresses however we do not recommend that they are placed directly on the mattress surface. In addition, using an electric blanket may alter the comfort grade of the mattress depending on the mattress type.
We also recommend following all guidelines and instructions specified by the manufacturer of your electric blanket.
What does it mean if your new mattress is dipping?
All new mattresses are designed to settle/dip slightly in the areas that you sleep the most. We measure our mattress depths from the top edge to the bottom. Because they're handmade, the depths can vary slightly throughout - especially towards the middle. This is where the luxurious and supportive fillings are more prominent. The layers and fillings are simply responding to pressure point areas and providing support where you need it. While a little settlement is no cause for concern, there are ways you can minimize any further dipping:
Allow your mattress to air out daily by leaving the covers pulled back for a while after you get up. This encourages any moisture to disperse and allows the fillings and layers to rise back up.
Make sure you follow the recommended rotate and/or turn instructions as labelled on your mattress. Regular rotating and/or turning encourages the fillings to level out.