Otis Sleepmotion Adjustable Wooden Bed Frame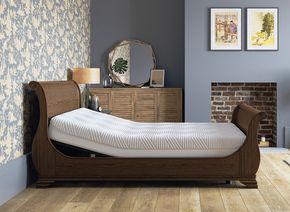 Overview
Why choose this bed frame?
Compatible with the 100i, 200i and 400i Sleepmotion bases
You control it via the Napp by Dreams app or a standard remote, included
Made with pine and pine veneer in a dark stain finish
Stylish sleigh-shaped design
Compatible with selected mattresses
Rest easy with a 1-year guarantee
Crafted from pine and pine veneer in a luxurious dark stain finish, the Otis bed frame will make a grand addition to your bedroom. It's chiselled in a stylish sleigh shape with intricate carved detailing.
The adjustable Sleepmotion bases will replace the slat options on the standard Otis bed frame. This sleek and adjustable bed frame gives you precise customisation with Zero Gravity technology*, night after night.
At the push of a button, you can support your head and legs* while you watch TV, read a book or use your laptop. The base can also help to ease painful pressure points and improve your circulation, giving you better support and comfort.
Please note:
The movement function on the 100i is designed to be used while awake so you can't sleep in the upright position. For the option to sleep while elevated, upgrade to the 200i or 400i.
*The 100i is controlled using a wired remote, offers adjustment at the head and doesn't feature Zero Gravity technology.
These images are a visual representation and t'll be a slight gap between the base and mattress when in use.
Assembly details:
For the Otis Bed Frame,  Instructions download 
Instructions for your Sleepmotion base can found within the box, or on the product page within the overview section: 100i, 200i and 400i
Additional information:
For your peace of mind, our Bedcover Service Plan lets you rest easy about the looks, comfort and performance of your new mattress, bed or furniture with cover of up to 8 years.
SKU: 251-00365
Delivery
Comes in 4 packages
Package 1:
Measures:
177 x 36.5 x 18.5cm

Package 2:
Measures:
140 x 17 x 96.5cm

Package 3:
Measures:
159 x 117 x 31cm

Package 4:
Measures:
155 x 86 x 29cm