Levitex Gravity Defying Low Pillow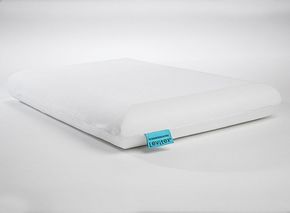 Overview
Why choose these pillows?
Features patented Levitex foam technology
Offers pressure relief without compromising on support
Aids your spinal alignment during sleep
Independently clinically researched by two British universities
Comes in three sizes
Recommended by physiotherapists
Rest easy with a five-year guarantee
The Levitex Gravity Defying Low Pillow helps you find a good sleep posture, and allows you to wake up rested, pain free, and ready for the day.
This pillow addresses pressure and posture. Made from Levitex foam technology, it lifts your head off the bed while supporting neutral spinal alignment. It won't allow your head to sink into it nor is it temperature sensitive. You'll find that having a neutral spine while you sleep is good sleep posture that can improve your sleep quality significantly.
This pillow offers all the benefits of good sleep posture: reduced neck and back pain, improved circulation and digestion, lessened tension in neck and shoulders, boosted energy levels, increased lung capacity, and increased core strength.
Please note:
The low (small) pillow is made for people who sleep on their back.
It's a whole new way of sleeping so please allow up to two weeks to get used to the pillow.
SKU: 719-00276
Delivery
Comes in 1 packages
Package 1:
Measures:
10 x 60 x 40cm