Kenny Mid Sleeper Bed Frame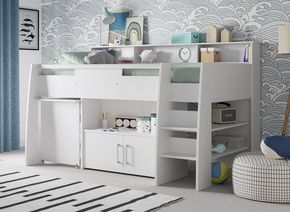 Overview
Why choose this bed frame?
Versatile and multi-functional
Made from particle board
It's a great storage solution
Recommended age: 6
Weight limit: 80kg (including mattress weight)
Rest easy with a 1-year guarantee
Perfect for studying, storage and sleeping, you'll find this multi-functional mid sleeper bed is ideal for any kid. With a pull-out desk, cupboard and shelves both on the bedside and under the bed, the Kenny mid sleeper is an ideal space saving solution.
For safety reasons, this mid sleeper requires a mattress with a maximum height of 15cm. It's suitable with a Euro 3'0 single mattress with a maximum depth of 15cm. Check out our Little Big Dreams range of kids mattresses, available in a 200cm long Euro single size with a 15cm depth suitable for mid sleepers, high sleepers, cabin and bunk beds.
Assembly details:
Please download instructions here
Build time: 2 people | 3 hours 30 minutes
SKU: 423-00132
Delivery
Comes in 4 packages
Package 1:
Weight:
22 kgs
Measures:
108 x 522 x 72cm

Package 2:
Weight:
34 kgs
Measures:
208 x 367 x 67cm

Package 3:
Weight:
28 kgs
Measures:
121 x 829 x 52cm

Package 4:
Weight:
30 kgs
Measures:
188 x 880 x 45cm