Kally Ultimate Front Sleeper Pillow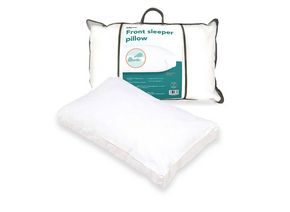 Overview
Why choose this pillow?
It's perfect if you sleep on your front
It has a breathable cotton cover
Its hollow fibre filling is bouncy and supportive
It aligns and supports your head and neck
It helps relieve neck and shoulder pain
It has a soft comfort grade
It has anti-allergy treated fibres
Rest easy with our 1-year guarantee
Do you sleep on your front and want the correct support for your head and neck?  Our Kally Front Sleeper Pillow is soft, shallow and filled with premium hollowfibre to the ideal level for front sleepers. Our Kally pillow is slightly flatter than our pillows for back or side sleepers and will support your neck at the optimal height, with your head slightly tilted on it.
Additional information:
Includes 1 x pillow.
SKU: 719-00271