Dreams Contour Memory Foam Pillow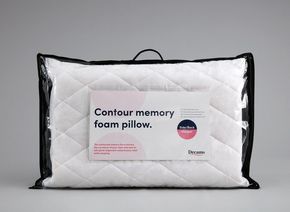 Overview
Why choose this pillow?
Features a cooling cotton cover
With memory foam filling for extra support
It has a form fitting curved shape
Ideal for both side or back sleepers
Great for relieving pressure
Improves your spinal alignment as you sleep
It has a medium/firm comfort grade
Rest easy with a 1-year guarantee
This Contour Memory Foam pillow is filled with premium memory foam to help relieve pressure points during sleep and support the head and neck. It's ideal if you tend to overheat while sleeping; the contour memory foam supports your pressure points by staying close and mirroring your body, while the cooling cover works to stop you getting too warm.
The perfect option if you're a side or back sleeper, this pillow is sure to bring you a comfortable and pleasant night's sleep.
Includes 1 x pillow.
Specifications:
100% Polycotton cover
Memory Foam filling
SKU: 719-00279