Anderson High Sleeper With Pink Chair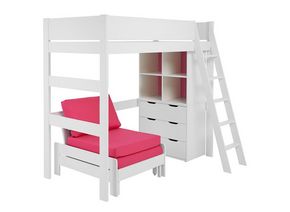 Overview
Why choose this high sleeper?
White painted solid wood
Storage units with interchangeable panels
With three storage drawers
Practical and space saving pink chair / bed
Comes with solid slats
Its slanted ladder can be built to the left or the right
Recommended age: 6+
Weight limit: 100kg (including mattress weight)
Rest easy with our 1-year guarantee
This Anderson high sleeper is a great way for you to make the most out of your kids' bedroom.
This set includes a bed and pull-out chair bed plus four handy storage units and three storage drawers. The cube storage features either pink or blue interchangeable panels and are a great way to house your little one's books, toys and clothes.
Whether you're constantly pulling out bedding for sleepovers or friends and family, this Anderson high sleeper is a great addition to any kids' bedroom, without having to compromise on space.
Please note:
This bed is suitable for a standard 3'0 single mattress with a maximum depth of 15cm.
Check out our Little Big Dreams range of kids mattresses, available with a 15cm depth suitable for mid sleepers, high sleepers, cabin and bunk beds.
Assembly details:
Instructions download: Highsleeper | Chairbed 
SKU: 433-00060
Delivery
Comes in 7 packages
Package 1:
Weight:
33 kgs
Measures:
17 x 45 x 90cm

Package 2:
Weight:
9 kgs
Measures:
9 x 25 x 170cm

Package 3:
Weight:
19 kgs
Measures:
15 x 26 x 194cm

Package 4:
Weight:
27 kgs
Measures:
12 x 45 x 90cm

Package 5:
Weight:
16 kgs
Measures:
11 x 56 x 102cm

Package 6:
Weight:
5 kgs
Measures:
40 x 90 x 90cm

Package 7:
Weight:
30 kgs
Measures:
15 x 26 x 194cm