Flaxby
The Flaxby collection is exclusive to us at Dreams. It represents some of the best British craftsmanship as each product has been handcrafted in the UK by expert bedmakers. From the coiling of springs to tufting, they ensure high quality and luxury.
In partnership with Harrison Spinks
We've teamed up with Harrison Spinks to craft a selection of premium mattresses in our Flaxby collection. With their reputation for innovation, combined with more than 180 years of bed making, they're our perfect partner for creating handmade luxury mattresses that are 100% recyclable.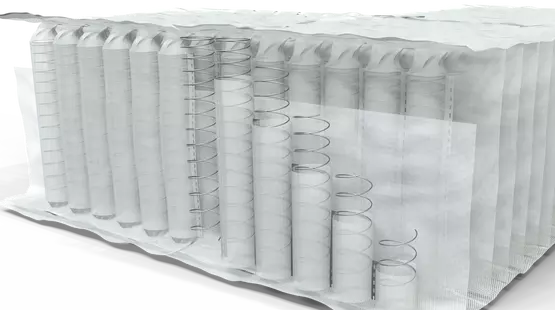 Cortec™
The world's first 100% recyclable spring system with small, tightly coiled springs for superior comfort and support
Cortec™ uses tightly coiled pocket springs sealed by heat instead of glue for sustainability, plus great pressure relief while you sleep. The spring unit is also lighter than conventional springs for better airflow and temperature control.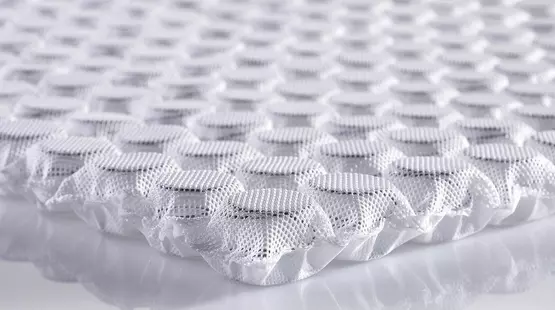 DNAir
Ventilated pocket springs using small perforated holes in the material, exclusive to Dreams
DNAir pocket springs help to keep you cool in bed. The small perforated holes in the pocket material enable warm air to be pushed out as they compress. All DNAair springs are handcrafted in the Harrison Spinks Yorkshire factory.
Seasonal turn mattresses
Designed to adapt to the weather, our Flaxby seasonal turn mattresses are double-sided to provide both cooling and warming properties depending on the season. Simply flip the mattress over seasonally to reap the benefits of the carefully selected natural fibres.
SHOP COLLECTION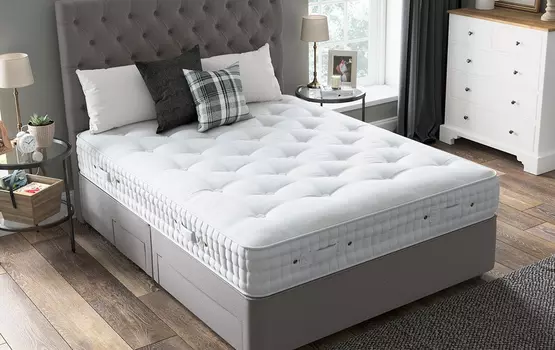 Why choose Flaxby?
A big part of Flaxby beds and mattresses is innovation – finding new solutions to age‐old sleep problems.
The Flaxby collection is exclusive to Dreams and includes everything from divan bases to mattresses. The consistent feature is high‐quality production. For example, all mattresses and beds are made with a blend of traditional methods and high‐class technology, ensuring a great night's sleep for whoever is lucky enough to call a Flaxby bed their own. Aside from the high‐level production, there are also many other features which make Flaxby products a worthy investment. Check out some of the most frequently asked questions below.
Why consider a Flaxby bed for storage?
If you require extra storage space, there are a number of soft close drawer options available within our Flaxby divan bases, so you can tailor your base to be just right for you and your bedroom. These useful storage drawers are made from high quality, ethically sourced wood, and can be upholstered, along with the divan base, in your choice of fabric.
What's more, all of our Harrison divan bases contain 2000 pocket springs. These are positioned equally across the surface of the timber base and provide additional support and durability to your Flaxby Collection mattress.
Do Flaxby mattresses come with split tension?
If you and your partner prefer different comfort levels, your mattress can be made with a split tension. The DNA pocket springs in the core unit are made with different diameters of wire, creating the perfect levels of comfort and support for both sleepers.
Why choose a Flaxby headboard from the Flaxby collection?
Select one of our hand‐crafted headboards to give the perfect finishing touch to your Flaxby collection bed. With three designs that can be upholstered in your choice of luxurious fabrics, these headboards really enhance the look of your mattress and divan.
Are all Flaxby products natural?
All Flaxby mattresses are made from natural products which are the best at wicking away moisture and controlling body temperature. And it's not only wool but UK‐grown hemp and flax too. These natural fibres help reduce the impact on the environment by absorbing a good percentage of the C02 gases caused by the production of wool.