Country Living Hamsterley Mattress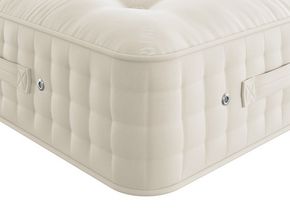 Select a size
3'0 Single

4'0 Small double

4'6 Double

5'0 King

6'0 Super king
Overview
Specifications:
2200 double layer of calico pocket springs
Has a medium or firm comfort grade
Hand-nested and hand-centre tied
Hand-teased soft natural fibres of lambswool and mohair
Natural fillings keep you cool in the summer and warm in the winter
Hand-tufted with wool tufts
100% natural Belgian damask
3 rows of hand side stitching
Made in the UK
Comes with our 40-Night Sleep Guarantee
Rest easy with our 5-year guarantee
The premium Country Living Hamsterley Mattress takes mattress design and craftmanship to the next level, so you can enjoy the best night's sleep. Made in the UK using traditional time-honoured skills and the very best in high quality natural fillings, it gives you deluxe comfort and outstanding support.
At the heart of the beautifully hand-finished Hamsterley mattress is the calico pocket spring, which is made in the UK, using a specially developed steel alloy for strength, comfort and durability. Individual springs are sewn into hard-wearing calico fabric pockets, then hand-nested in a honeycomb pattern to produce a unit for the centre of the mattress. Linen cord is threaded through the springs to tie them and secure the nesting.
The advantage of these pocketed springs is that each spring moves independently from the others, to support different body weights and shapes. This helps prevent you from rolling towards another person in the bed.
The Hamsterley mattress also features 14 comfort layers for a blissful night's sleep. Four are made of lambswool, then there are two of generously deep hand-teased lambswool and two of hand-teased mohair. All work in perfect harmony to give you an outstanding level of comfort and support.
Typically reserved for high grade textiles, lambswool is the first wool shorn from young sheep. Soft and very elastic, this highly prized mattress filling keeps you cool in the summer and warm in the winter.
Hand-teased fillings are the pinnacle of mattress upholstery, produced using age-old skills and a labour-intensive process of separating the fibres of the natural fillings. Teasing the fibres carefully by hand achieves an even layer of soft upholstery, with luxurious loft and excellent resilience. It takes around nine hours to softly build up the layers for just one Hamsterley mattress.
Expert craftspeople have used traditional hand tufting, with woollen tufts, to achieve the precise level of firmness required from the Hamsterley mattress, while creating internal pockets to hold the fillings in place.
The mattress has been finished with three rows of hand side stitching. Side stitching is an art requiring years of training, as well as care and dedication to the craft. This means the expertly side stitched Hamsterley mattress gives you maximum support across the entire sleeping surface.
The Hamsterley Mattress is part of our premium Country Living Collection, produced using the very best craftmanship and high quality natural materials. 
Additional information:
Double sided - turn regularly and rotate head to toe weekly for the first three months, then every month thereafter
For your peace of mind, our Bedcover Service Plan lets you rest easy about the looks, comfort and performance of your new mattress, bed or furniture with cover of up to 8 years.
SKU: 131-00941
Delivery
Comes in 1 packages
Package 1:
Weight:
55 kgs
Measures:
30 x 135 x 190cm